UT Southwestern celebrates first Founders Day with tradition of giving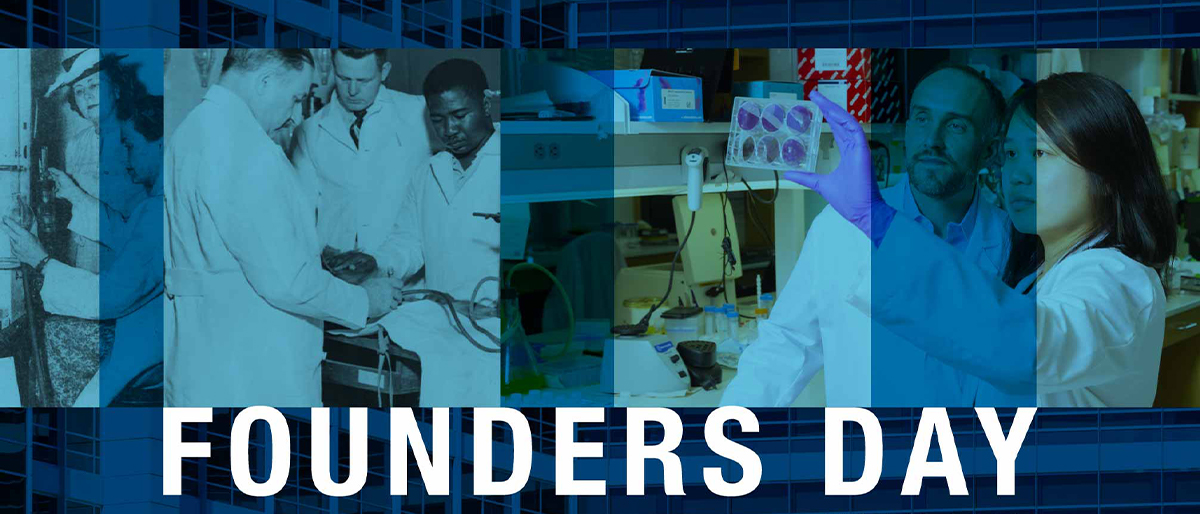 From the beginning, community generosity has fueled UT Southwestern's achievements. Numerous academic and civic leaders have shaped the University's vision, but Dr. Edward H. Cary planted the first seed in 1943 when he pitched Dallas philanthropist Karl Hoblitzelle and a coalition of business leaders the idea for a leading medical center in North Texas.
What started with their act of giving 78 years ago led to the UT Southwestern of today. Ranging from award-winning patient care and groundbreaking discoveries to accomplishments of renowned scholars and Nobel Laureates, the University's litany of accolades is surpassed only by its impact on the lives of students and patients through exemplary education, research, and patient care.
On May 5, alumni honored that heritage by commemorating the anniversary of the institution's creation by starting a new Founders Day tradition. Founders Day is an opportunity for all alumni to celebrate UT Southwestern's achievements with a day of giving back to the institution. In the weeks leading up to May 5, alumni were encouraged to make a gift – of any amount – to invest in the institution's future.
Hughes challenge amplifies scholarship giving
A gift from UTSW alumni Drs. Linda and Lannie Hughes magnified fundraising efforts. Inspired by the message of Founders Day and hoping to inspire generosity from others, the couple gave $25,000 to be used as a matching challenge to raise additional funds for UT Southwestern Medical School student scholarships.
The Hughes' gift provided an opportunity for alumni of the Medical School to double their scholarship giving for Founders Day. Gifts were matched dollar-for-dollar up to the $25,000 goal. Enthusiastic responses surpassed the challenge, doubling the impact of the Hughes' generosity.
For the married couple, it was a chance to give back and create opportunities for future generations of UT Southwestern physicians.
"When we graduated from medical school it was inexpensive. We ended up with no debt," said Dr. Linda Hughes. "That is simply not true today, as so many students face enormous debt."
Dr. Lannie Hughes graduated from UTSW in 1966 and went on to specialize in gastroenterology care and serve as a battalion surgeon in the Vietnam War. A founding member of the Dallas Diagnostic Association, he retired as founding physician and Medical Director of Baylor Scott & White – Plano. Dr. Linda Hughes was one of four women to graduate from UTSW in 1967 and later served as President of the UT Southwestern Alumni Association. A board-certified psychiatrist, she was the first female Medical Director of Charter Medical Center and held the same role at several other psychiatric hospitals and programs.
"Both of us feel fortunate to have attended UT Southwestern, and this gift is very much a reflection of our gratitude," said Dr. Lannie Hughes. "We've always felt the quality of education was just outstanding, and it gave us the vital preparation to go into our chosen practices."
Organizers are already planning Founders Day activities for May 5, 2022, to encourage alumni giving and community support.