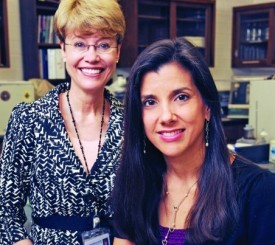 Since 1994, Rebecca Gruchalla, M.D., Ph.D., has had sustained NIH funding for research in inner-city pediatric asthma. In 1996, she became a member of the Inner City Asthma Multicenter Study group (Dallas-site PI), which became an NIH-sponsored contract (Inner City Asthma Consortium – ICAC) in 2002. The initial contract was a six-year contract for $55.8 million, and its purpose was to investigate the mechanisms of asthma in inner-city children, as well as to develop novel treatments for this disease. The contract has been renewed for the third time and now extends through 2021.
UT Southwestern is once again a participating site, along with Boston University, Children's Memorial Hospital in Chicago, Cincinnati's Children's in Cincinnati, Children's National Medical Center in Washington, D.C., Henry Ford Health System in Detroit, National Jewish Health in Denver, Johns Hopkins University in Baltimore, Columbia University in New York, St. Louis Children's Hospital in St. Louis, and the University of California, San Francisco.
UT Southwestern continues to be one of the top recruiting sites for ICAC.
In addition to the asthma clinical studies that have been, and that are being done, as a part of ICAC, basic mechanistic studies are being conducted as well.
Drs. Rebecca Gruchalla (left) and Michelle Gill are involved in research that suggests allergic reactions to cockroaches, pet dander, dust mites, and mold may prevent people with allergic asthma from generating appropriate immune responses to respiratory challenges like the flu virus.
David Khan, M.D., is conducting various research projects in adults focused on understanding the mechanisms of nasal polyp disease, mood disorders and asthma, rush immunotherapy, and assessment tools for rhinitis and urticaria.