42nd Annual Nominata Award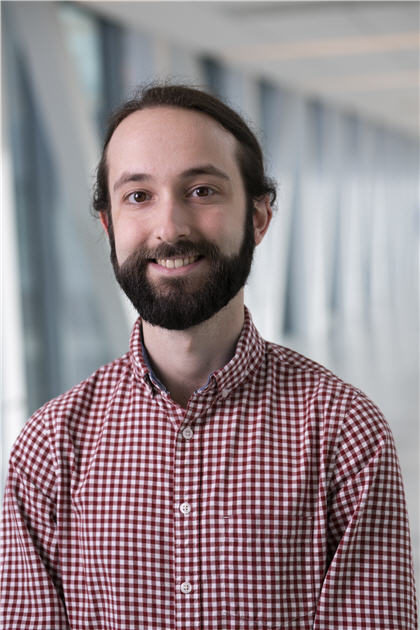 The Graduate School of Biomedical Sciences is pleased to announce Ian Boys of the Immunology Graduate Program as the recipient of the 2021 Nominata Award, the highest honor for academic and research accomplishment bestowed by the graduate school unto an advanced graduate student.
A summa cum laude graduate of Baylor University, Ian was a UT Southwestern Summer Undergraduate Research Fellow (SURF) in 2013 and 2014 in the lab of John Schoggins, PhD, Associate Professor of Microbiology. Ian is now pursuing his dissertation research in the Schoggins lab, supported by a National Science Foundation Graduate Research Fellowship and by the NIH Integrative Immunology T32 training grant.
Ian is studying how bats are able to harbor viruses that are pathogenic when they cross over to other species including humans. In work published in Cell Host and Microbe, Ian identified a bat protein with antiviral activity against human pathogens including West Nile, Zika, and dengue. He has also contributed to work published in Nature Microbiology, ChemRxiv, Nature Communications, and Nature Microbiology. During the early phases of the COVID-19 pandemic, Ian and the Schoggins lab pivoted to SARS-CoV-2 studies and set up an in vitro screening assay that successfully identified an antiviral drug now in clinical trials.
Ian has demonstrated academic excellence and an exceptional level of research achievement. His accomplishments serve as an outstanding example for all graduate students of UT Southwestern. Please join us in congratulating Ian.
History
The Graduate Student Organization (GSO) created the Nominata Award in 1980 to stimulate academic excellence and research achievement among the advanced graduate students. The award consisted of a monetary prize and a gift certificate from Majors Scientific Books. Today, the Committee on Graduate School Awards, comprised of graduate school faculty, judges the nominees. The recipient receives a monetary award and the honor of presenting their research to the UT Southwestern community within the forum of the University Lecture Series.
The 2021 Nominata lecture and award presentation will be held Wednesday, May 12, 2021 at 4:00 PM virtually.
New Proposed Call for Nominations Date: TBA
Deadline to Submit Nominations: TBA
Brown-Goldstein Award for Excellence in Postdoctoral Research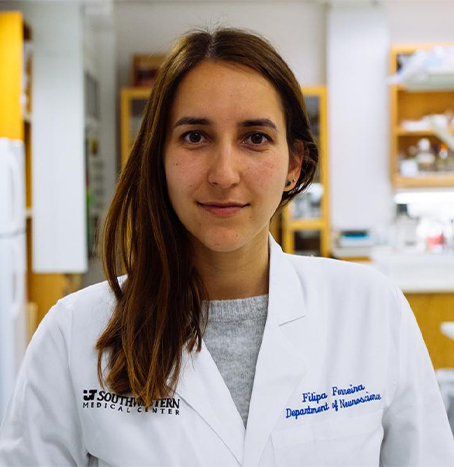 The Graduate School of Biomedical Sciences is pleased to announce that Filipa Ferreira, Ph.D., a postdoctoral scholar in the Department of Neuroscience, is the 2021 recipient of the Brown-Goldstein Award for Excellence in Postdoctoral Research. Honoring the contributions of Drs. Brown and Goldstein to the training of the next generation of scientists, this award is the highest honor for research accomplishment bestowed by the Graduate School on a postdoctoral trainee. Chosen by a committee of graduate school faculty members, the winner receives a monetary prize as well as the opportunity to give the University Lecture.
Circadian clocks allow organisms to anticipate changes in the environment, regulating multiple physiological aspects of their biology such as metabolism and immune defense. Dr. Ferreira's research seeks to understand how daily rhythms shape host-parasite interactions and infection efficiency. As a postdoctoral researcher in Dr. Joseph Takahashi's laboratory, she first uncovered that sleeping sickness infection, which has always been considered a sleeping disorder, has an underlying circadian contribution. Through behavioral and molecular approaches, Dr. Ferreira showed that the presence of parasites leads to an acceleration of the clock and thus a phase advance disorder. Her findings suggest that circadian effects on the host are through molecule(s) that are able to cross the blood-brain-barrier and modulate host behavior. More recently, contrary to the prevailing view in the malaria research field, Dr. Ferreira discovered that malaria periodic fevers are not simply a consequence of host rhythms. Through a stepwise elimination of environmental and host rhythmic cues, she showed that rhythms in Plasmodium parasite biology are intrinsic. Thus, parasites sense and synchronize their rhythms to match the host's. Together, Dr. Ferreira's research findings contribute to the understanding of parasite biology and serve as a proof of principle for considering implementing time of day drug administration in infectious disease medicine. Importantly, Dr. Ferreira's findings argue that identifying parasite clock genes may prove a complementary approach to fighting these diseases.
In addition, award finalists Jessalyn Ubellacker, Ph.D., and Bryan Gibson, Ph.D., postdoctoral scholars in the Children's Research Institute and Department of Biophysics respectively, will receive Dean's Discretionary Awards.
Please support our excellent trainees by attending the University Lecture to congratulate them and hear Dr. Ferreira's seminar, entitled "Circadian Rhythms in Parasitic Diseases: An Underlying Clock of Malaria Parasites" on Thursday, April 29th at 4:00 PM. The Zoom link will be sent at a later date.
New Proposed Call for Nominations Date: TBA
Deadline to Submit Nominations: TBA
Send an email to learn more about the competition. Erika.Anderson@utsouthwestern.edu
36th Annual Ida M. Green Award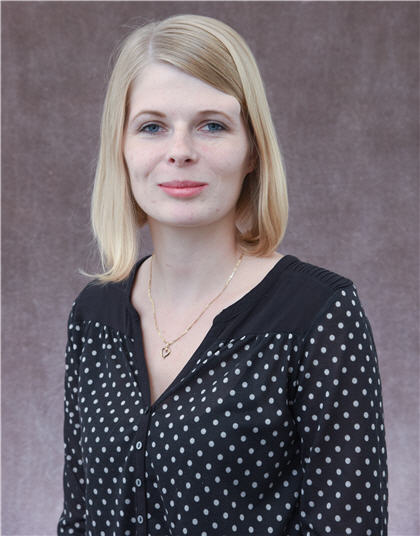 Please join the Southwestern Graduate School of Biomedical Sciences in congratulating award recipient Karolina (Karo) Stepien, a graduate student in the Molecular Biophysics Graduate Program, has been chosen by the Graduate Awards Committee to receive the 36th Annual Ida M. Green Award.
Karo first came to UT Southwestern in 2014 as part of an exchange program with Wroclaw University and other top universities in Poland supervised by Jose Rizo-Rey, PhD, Professor of Biophysics. After working as a visiting student in the Rizo-Rey lab, Karo matriculated to UT Southwestern Graduate School in 2016 and joined Dr. Rizo-Rey's lab for her dissertation research. Karo has been highly productive in the lab. Her research has yielded important new insights into the molecular mechanism of neurotransmitter release, work that has contributed to first-author publications in PNAS USA and Nature Communications and co-authorships on five additional papers in high-impact journals.
Karo has also had an outstanding record of service to her fellow graduate students and the UTSW community overall. She chaired her department's social committee, had leadership roles promoting career strategies with the Graduate Career Development Office, led numerous science outreach activities with United to Serve and Science on Tap, and served on the Board of Directors of the Dallas chapter of the Fulbright Association to promote international exchanges.
The Ida M. Green Award was established in 1987 with a bequest from Mrs. Green to Southwestern Medical Foundation. With encouragement from her husband, Cecil Green, the award was established to acknowledge a female graduate student in the UT Southwestern Graduate School of Biomedical Sciences who has demonstrated an outstanding commitment to research excellence, the well-being of fellow students, and exceptional community service. The honor comes with a monetary award provided by the Women in Science and Medicine Advisory Committee (WISMAC) and Southwestern Medical Foundation.
New Proposal Call for Nominations Date: TBA
Deadline to Submit Nominations: TBA
To learn more about this award and completion, please email. Southwestern Graduate School
William F. and Grace H. Kirkpatrick Award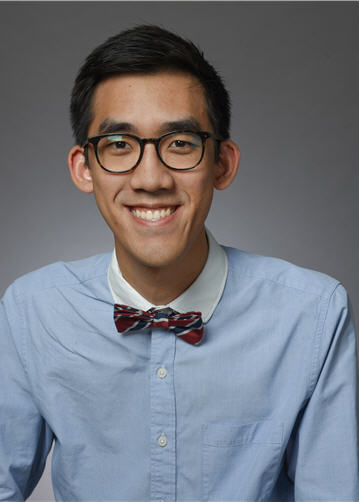 On behalf of the Graduate School Awards Committee, we are pleased to announce the recipient of the William F. and Grace H. Kirkpatrick Award is Michael N. Trinh.
The Kirkpatrick award provides $25,000 to kickstart research proposed in an NRSA predoctoral fellowship grant application submitted during the academic previous year. The winner is chosen on the basis of scientific merit by the Graduate School Awards faculty committee, chaired by Jen Liou, Ph.D., without knowledge or consideration of the outcome of the grant application.
Michael is a second year graduate student in the Genetics, Development, and Disease Graduate Program and the Medical Scientist Training Program. His mentors are Drs. Michael Brown and Joseph Goldstein in the Department of Molecular Genetics. His pending NIH F30 grant, entitled Phosphatidylserine Requirement for Intracellular Cholesterol Transport, aims to elucidate mechanisms by which lipids traverse membranes, thereby revealing new avenues for therapeutic approaches to mitigate rare and common disorders of cholesterol accumulation.
New Proposed Call for Nominations Date: TBA
Deadline to Submit Nominations: TBA
Send an email to learn more about the competition. Erika.Anderson@utsouthwestern.edu