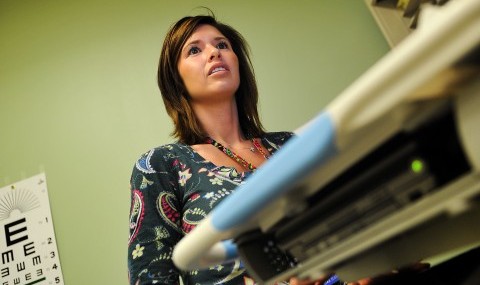 Pediatric emergency medicine faculty and fellows provide emergency services at Children's Health℠ Children's Medical Center Dallas for more than 70,000 patients each year, with an additional 47,000 patients treated annually at the Children's Medical Center Plano campus. This is the only Level 1 pediatric trauma center in North Texas, and one of the busiest pediatric emergency medicine clinical services in the country. As the pediatric trauma center for Dallas County, we provide emergency care for a variety of complex problems in children with special health care needs. The majority of the patients seen annually in the emergency department are high acuity ESI levels 1, 2, and 3.
Assistant Professor, Sing-Yi Feng, M.D., is also a certified toxicologist. She manages a special Lead Poisoning Clinic at Children's and provides toxicology consultation service to Children's and Parkland.
The emergency center serves as the clinical laboratory for the division faculty, where more than a dozen investigative studies are ongoing and designed to answer critical questions that will improve the care provided to children in crisis. Study themes include treatment of respiratory diseases, pain management and sedation, injury epidemiology, noninvasive monitoring, and brain injury research.
Learn more about the excellence of our pediatric emergency patient care.