Kindness Connects Us: Spread positivity, warm-heartedness at UT Southwestern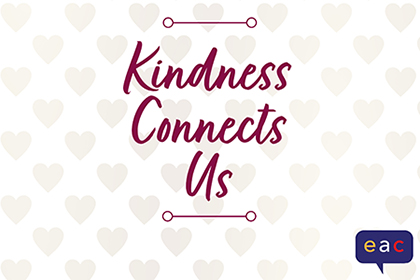 The Employee Advisory Council (EAC) is celebrating kindess at UT Southwestern through the Kindness Connects Us campaign – beginning on World Kindness Day, Nov. 13, 2020, and ending during Random Act of Kindness Week on Feb. 23, 2021. Every week, a member of the EAC will share their favorite quote on kindness, in an effort to lead each week at UT Southwestern with kindess and warm-heartedness.
We challenge you to join our efforts in spreading kindness and positivity throughout our workplace.
December 29, 2020

"How do we change the world? One Random act of kindness at a time." – Morgan Freeman

December 22, 2020

"Do things for people not because of who they are or what they do in return, but because of who you are."
– Rabbi Harold S. Kushner

December 15, 2020

"Kindness is the language which the deaf can hear and the blind can see."
– Mark Twain

December 7, 2020

"Generosity is giving more than you can, and pride is taking less than you need."
– Khalil Gibran

November 30, 2020

"Choose kindness, it's free. Sprinkle that stuff everywhere!"

November 23, 2020

"Be Kind, for everyone you meet is fighting a battle you know nothing about."

November 16, 2020

"Kind words can be short and easy to speak, but their echoes are truly endless."
– Mother Teresa