Welcome to Neurological Surgery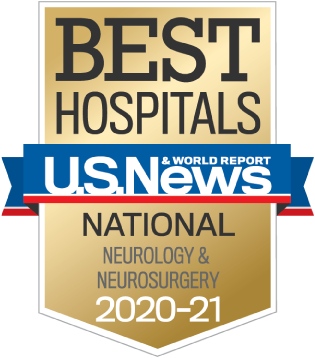 U.S. News & World Report ranks UT Southwestern Medical Center as one of the top programs in the nation in neurosurgery and neurology. At this level, we take great pride in everything we do. The Department of Neurological Surgery's top-notch faculty has created an environment that is second-to-none for our residents and fellows. From brain tumors to neurotrauma to cerebrovascular issues, our programs receive some of the most complex, difficult cases in the country.
Excellence in Care
Programs of the Department of Neurological Surgery include:
Brain Tumors -- Our Neuro-Oncology Program is supported by the Annette G. Strauss Center for Neuro-Oncology and is conducted in collaboration with the Harold C. Simmons Comprehensive Cancer Center, as well as with the Department of Radiation Oncology.
Cerebrovascular – Our Cerebrovascular Program treats more patients and performs more procedures than any other program in the region. Neurologists and neurosurgeons throughout Texas and the five-state area refer their most complex cases to UT Southwestern for the treatment of serious stroke, threatened stroke, and arteriovenous malformations.
Neurocritical Care – This subspecialty combines knowledge and skills from neurology, neurosurgery, and critical care medicine in the comprehensive resuscitation, monitoring, and management of complex and life-threatening neurological problems.
Neurotrauma – Through this program at Parkland Memorial Hospital, we play a major role in the provision of trauma care to the citizens of Dallas and visitors to our city who experience severe head injury or sustained trauma to the spine and spinal cord.
Spine Program -- We offer innovative treatment options for the most complex spinal conditions including spinal tumors and fractures, back and neck pain, spondylolisthesis, spinal deformities and degenerative disease. Some of the treatments available are nerve-conduction studies, endoscopic surgery, and CyberKnife radiosurgery.
Stereotactic and Functional Neurosurgery, Stereotactic Radiosurgery, and Epilepsy Surgery – The stereotactic and functional neurosurgery program has remained the busiest of the three such programs in Dallas and has achieved national recognition due to involvement in trials with deep brain stimulation for treatment of psychiatric disorders and epilepsy. Our Epilepsy Center is the busiest in the state of Texas for surgical procedures.