Get to know the latest Strauss Award winners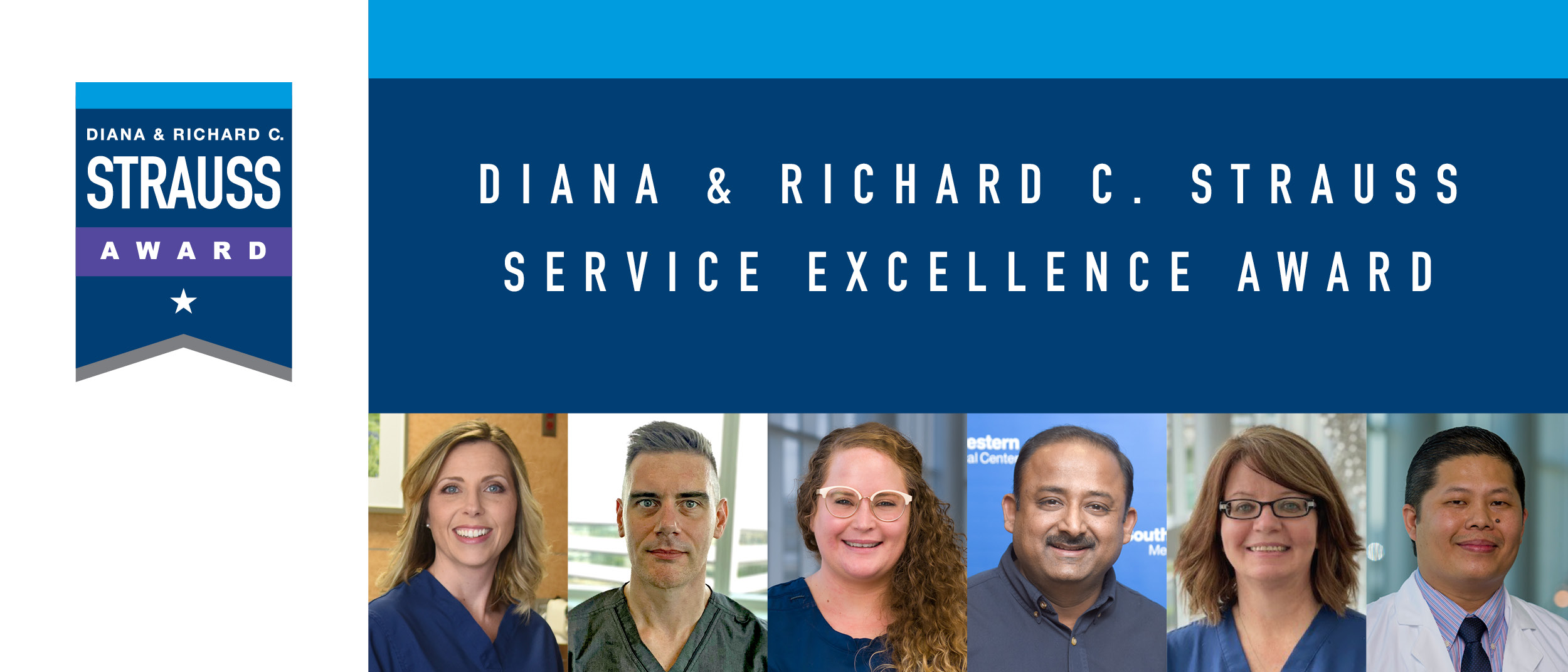 Once every three months, six UT Southwestern employees within our Health System are honored for exemplifying excellence and professionalism in all they do.
Two nurses, a dietitian, a patient financial adviser, a physician assistant, and an occupational therapist are the most recent winners of the Diana and Richard C. Strauss Service Excellence Awards.
Three things define and unite Strauss Award winners:
They excel at their jobs.
They serve as role models for the next generation of employees.
They share a spirit of volunteerism that strengthens our community.
The 2021 first-quarter winners were celebrated April 30 at a virtual event hosted by Dr. John Warner, Executive Vice President for Health System Affairs.
Watch: Dr. Warner honors winners during the virtual event
Here's a quick peek at the most recent roster of Strauss Award winners.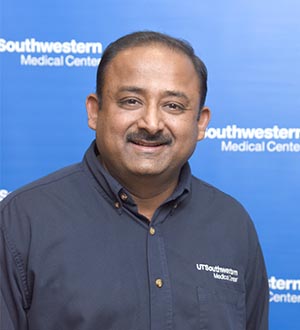 Sunil Abraham
Patient Financial Advisor III
University Hospital Wound Care Clinic
"Sunil is the operational rock for our clinic. He is always here, runs the entire front desk and referral work for the clinic, and is critical in getting new employees oriented and trained to assist."
- Strauss Award nominator
UTSW career: Mr. Abraham began his career at UT Southwestern Medical Center in 2014 as a Customer Service Representative, followed by Financial Counselor, Patient Financial Coordinator, and now, Patient Financial Advisor III.
In his role: He is responsible for verifying insurance, taking authorization for procedures, and training new registration staff members. "I really enjoy helping our patients get the proper treatment at the correct price and helping them to determine if there are any additional resources UTSW can provide to assist them," Mr. Abraham says.
Patient and colleague feedback: Patients regularly let nursing staff know how knowledgeable, efficient, and calm Mr. Abraham is while working the front desk. He receives compliments and PACT cards from his colleagues often and is recognized by provider staff as well.
Off the clock: In his free time, Mr. Abraham is involved with Feed My Starving Children, a nonprofit that provides nutritionally complete meals specifically formulated for malnourished children. Additionally, the desire to help patients runs deep in his household: His wife, Teena, also works at UTSW, as a nurse in the Emergency Department.
---
Mark Dula, PA-C
Physician Assistant
UTSW Sleep and Breathing Disorders Clinic
"Mark is one of the kindest and most attentive providers. His easy manners and professionalism set the tone for our clinic, and his exceptional skills have made him an invaluable resource to us."
- Strauss Award nominator
UTSW career: Mr. Dula joined UTSW in 2017, having spent the nine years prior as a respiratory therapist.
He pursued an advanced career as a Physician Assistant (PA) because he wanted a role in which he could continue to use his background in a new realm of medicine.
In his role: As a PA in UTSW's Sleep and Breathing Disorders Clinic, his work includes a combination of sleep and breathing medicine for people with neuromuscular issues.
Patient and colleague feedback: His nominator applauded his commitment during the COVID-19 pandemic, sharing that even with a marked increase in patient volume, Mr. Dula pulled the team together, helped rework schedules, and assumed additional responsibility. "Our patients are a high-risk and complex patient group, and they receive excellent care, committed attention," his nominator wrote, "and Mr. Dula's efforts translate to lives saved over this time period, without doubt."
What he likes about UTSW: He loves that being a part of a teaching facility affords him the opportunity to grow professionally. He appreciates the camaraderie in his clinic and the experiences he shares with his colleagues – including Physicians, fellow Advanced Practice Providers (APPs), Nurses, Respiratory Therapists, Sleep Techs, and Medical Office Assistants. "I have great respect for my colleagues and peers," he says. "Everyone is so helpful, and that makes my job a lot easier."
---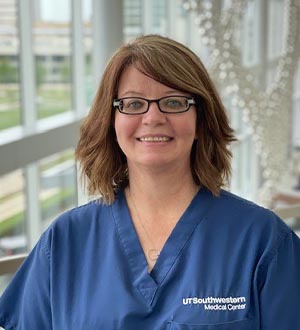 Tracy Heineman, B.S.N., CCRN
Rapid Response RN
Patient Care Services
"Tracy can easily be considered the 'founder' of the Rapid Response Team at UTSW, having played an instrumental role in the SWOT analysis and inception of the program in our organization. She has vast knowledge and skills in general nursing and critical care nursing. She is compassionate and constantly goes above and beyond in anticipating patient needs."
- Strauss Award nominator
UTSW career: Ms. Heineman began her UTSW career in 2007, when she joined as a bedside nurse in Medical Surgical ICU at St. Paul University Hospital – working with cardiology and oncology patients, as well as post-op surgical patients, including liver and kidney transplant patients. At that time, there was no dedicated rapid response team (RRT) for mobilization during emergency situations, so ICU nurses handled those duties. In 2014, with the opening of William P. Clements Jr. University Hospital, she served on the trial rapid response team.
In her role: She assists with stabilizing patients, participates in sepsis rounds to ensure stroke patient safety, and serves as a resource for other UTSW nurses. She responds to clinical emergencies and assists with stabilizing patients, and collaborates with providers for timely interventions.
What she likes about UTSW: "I really like the challenge of going to the bedside and doing that critical thinking to find out what's going on with a patient in that particular emergency situation. And I really love the teamwork. Having people with experience in different areas – especially in a rapid or code blue – the way we all come together really makes a difference for patients."
Health care lineage: Ms. Heineman comes from a health care family. Her mother was a nurse at The University of Texas at San Antonio, and she has one cousin who is a nurse and another who is a physical therapist.
---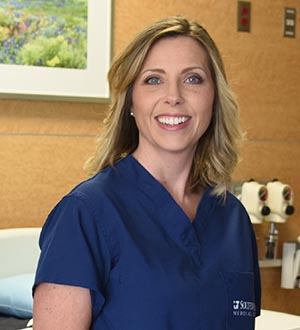 Emily Pickett, B.S.N., RN
Registered Nurse II
Cardiovascular ICU at CUH
"Emily is currently the principal investigator on her very first research project – studying the effects of music therapy on pulmonary transplant patients' anxiety and sleep. As her co-Principal Investigator on the study, I get to see her positive attitude and creative problem-solving skills. For example, when we had to change our study's patient population, she quickly and easily pivoted to lung transplant because of her outstanding reputation and rapport with doctors – not only in CVICU but on 10B in the Heart and Lung unit."
-Strauss Award nominator
UTSW career: In a previous life, Mrs. Pickett was a tax consultant. After her father suffered a heart attack, she decided it was time to make a big move to a more fulfilling career. In awe of the nurses who cared for her father, she left the tax world behind and went to nursing school.
Mrs. Pickett started in 2011 at St. Paul University Hospital. "I always knew I wanted to work in the Cardiovascular Intensive Care Unit (CVICU) because of my family's experience after my father's near-fatal heart attack," she says.
In her role: "I have a love of learning and a genuine love for people. I appreciate that I'm able to be a support to our patients and their family members because of my personal experience. The nurses in our unit have to not only have the technical ability to care for these highly acute patients, but also have the mental and emotional fortitude to take care of them."
Musical inspiration: In 2018, Mrs. Pickett experienced music therapy at the Harold C. Simmons Comprehensive Cancer Center while her sister-in-law was undergoing chemotherapy treatments. Blown away by the benefits, she set a goal to bring music therapy to Clements University Hospital. She worked with UTSW leadership and administration to grow this adjunct therapy into a full-time service offered to all hospital patients.
What she likes about UTSW: "When I was a nursing student, I did a lot of clinical rotations at different places, including UT Southwestern. UTSW is far and away the best medical facility with the best, most collaborative staff. Many of my family members are patients here, and they get exceptional care."
---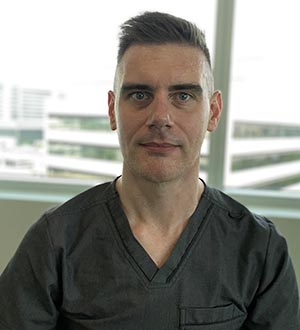 Jeffrey Schellinger, M.C.N., RD, CSOWM
Program Coordinator, Weight Wellness Program
Department of Internal Medicine, Division of Endocrinology
"Jeff has drastically improved wait times for Weight Wellness new patient visits by creating a triage-focused decision tree with our colleagues in operations so that we can see urgent referrals in a timely and efficient manner."
- Strauss Award nominator
UTSW career: Mr. Schellinger first joined the UT Southwestern Medical Center family as a graduate student. During that time, he worked as both a Research Manager and a Lab Assistant in the Department of Internal Medicine, Division of Nephrology. He has since earned the role of Program Coordinator of the Weight Wellness Program, where he works with Dr. Jaime Almandoz, Assistant Professor, Department of Internal Medicine, Division of Endocrinology, and Medical Director of the Weight Wellness Program.
In his role: He works to optimize patient experiences and outcomes in the Weight Wellness Program by creating patient-centered workflows with the other clinicians and staff. In addition, Mr. Schellinger strives to educate colleagues and students on evidence-based obesity care and nutrition.
What he likes about UTSW: Mr. Schellinger enjoys working one-on-one with patients and partnering with his colleagues to create and achieve goals. He finds it meaningful to see where challenges arise, help remove barriers, and meet somewhere in the middle among lifestyle changes, medication, and surgical options. Mr. Schellinger also enjoys working on public health initiatives and being involved in research.
Off the clock: He loves cooking, testing recipes, exploring new foods, and checking out new restaurants with Dr. Almandoz, so they're able to share what local restaurants have available for their patients.
---
Kelsey Varner, OTR
Occupational Therapist
Acute Therapy Rehab Services, CUH
"Kelsey is easily approachable and never makes it seem like you are bothering her with a question or a request; she is a true team player and asset to the department. Thank you, Kelsey, for your assistance, knowledge, patience, and putting patient care first each and every day!"
-Strauss Award nominator
UTSW career: Mrs. Varner joined UTSW as an Occupational Therapist (OT) in 2018, and by the end of that same year, she had already earned a blue PACT pin – meaning that within just half a year, she had received four PACT cards from patients and peers through UTSW's PACT program (VPN required).
In her role: As an OT in Acute Therapy Services at Clements University Hospital, Mrs. Varner has thrived working alongside the Plastics, Ear-Nose-Throat, and Transplant teams to promote patient independence and holistic attention to the needs of patients during and after acute care.
Patient and colleague feedback: In addition to her strong start, she went on to earn silver PACT pins in 2019 and 2020 – representing 16 PACT cards over those two years (and counting, for 2021!). She is consistently recognized for her team involvement, patient dedication, and tremendous flexibility to help when there's a need.
What she likes about UTSW: She thrives in the team setting, working with nurses, doctors, her fellow OTs and Physical Therapists. She enjoys working on all units, because it keeps her skills fresh. "The environment at UTSW is so supportive," Mrs. Varner says. "It's very conducive to professional learning and growth, and every day is a new adventure."