Dr. Layla Zahra Samandi: Pediatric Society of Greater Dallas Award for Excellence in Pediatric Medicine
Dr. Layla Zahra Samandi has always had a soft heart for children. In high school, she taught swimming lessons and tutored elementary school students. Then in college, her volunteer work at a children's hospital solidified her career path. She hopes to pursue a career as a pediatrician in academic medicine and medical education.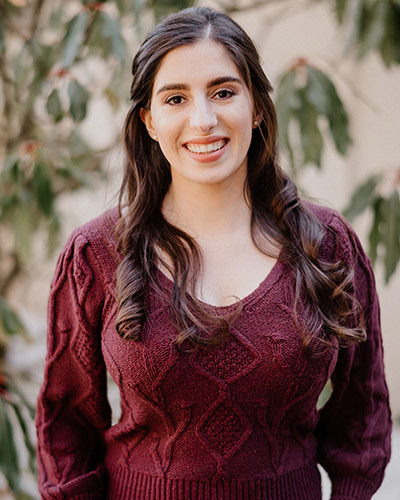 What this award means: "I am so humbled and grateful to have received this award. This award represents the values that I always hope to embody in my practice as a pediatrician. I have immense respect for the Pediatrics faculty here at UT Southwestern, who have served as role models for me, and to be selected by them for this award is especially meaningful."
Mentor comment: "Beyond Layla's clinical skills, she is compassionate, humble, self-motivated, and thoughtful. She made such strong impressions on our faculty throughout the year, and I can't wait to see what she does with the next stage of her training in Boston." – Dr. Soumya Adhikari, Associate Professor of Pediatrics
Background and family: "My parents are originally from Iran. My father is a retired engineer, and my mother is a homemaker. I was born in Australia and lived there until I was 7 years old, when my family moved to the United States. In college, I met my fiancé, Kevin Alloway, and our wedding is in May 2021. He will be joining me in Boston and attending architecture school."
What led to your career path: "I always loved working with children, even when I was still one myself! In high school, I taught swimming lessons and tutored elementary school students, and in college, I volunteered at the local children's hospital. I knew coming to medical school that I was interested in pediatrics, and my third-year clerkship solidified it."
UTSW activities: "In medical school, I have been involved in student government, serving as the test committee representative as well as on multiple curriculum feedback committees. I was also the volunteer coordinator for the Pediatrics Interest Group, coordinating student volunteer efforts at the Ronald McDonald House and Readers 2 Leaders, and tutored for USMLE Step 1. I also conducted research on atopic disease, studying food allergies and eosinophilic esophagitis."
Surprising fact: "I love trivia. I passed the initial round of casting for 'Jeopardy!' and I was invited to audition for the show in New York City, but I was studying abroad at the time in Sydney and couldn't go!"
Future plans: "I will be starting my pediatrics residency at Boston Children's Hospital/Boston Medical Center in the Boston combined residency program. I hope to pursue a career in academic medicine and medical education, and to subspecialize, likely in allergy/immunology."
About the award: The award recognizes an outstanding graduate who has the personal character and dedication to serve, as well as be an advocate for, children.