Dr. Vi Hung Pham: Kurt Ian Wey, M.D., Senior Pediatric Award
Had Dr. Vi Hung Pham's younger brother not been born prematurely, the thought of becoming a doctor might not have entered his mind. But that experience impacted Dr. Pham, as he saw his sibling compassionately cared for as a newborn. Later, the experience of volunteering at a pediatrician's office convinced him of his calling.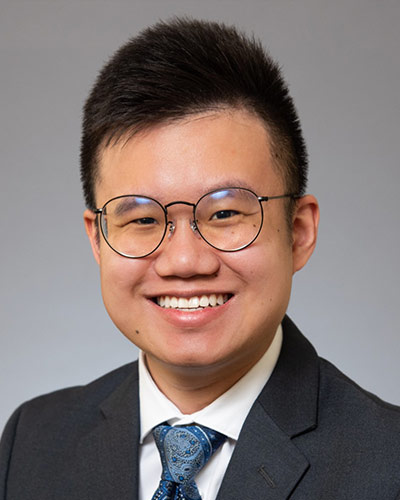 What this award means: "I am so honored to receive this award. I deeply admire the individuals of our Pediatrics Department, and to be selected for this award by the very people I view as role models is significant in itself. As a recipient of this award, I hope that I can play a part in honoring Dr. Wey's memory by practicing humanistic, empathetic, and evidence-based patient care."  
Mentor comment: "Vi earns the trust of the patients in his care through his level of investment in finding out what matters the most to his patients, and of course through his ability to deliver compassionate, holistic care. He emblemizes everything this award stands for." – Dr. Soumya Adhikari, Associate Professor of Pediatrics  
Background and family: "I was born in Connecticut but grew up in Keller, Texas. My parents are both Vietnamese immigrants. I am engaged to my significant other of nine years, Quynh Tran, who is starting medical school at the Texas College of Osteopathic Medicine."  
What led to your career path: "A career in pediatrics has always been my dream. My brother was born premature and had an extended stay in the NICU and, growing up, I was often in and out of the pediatrician's office due to catching many different bugs. My mom always talked about how reassuring the pediatricians were during my brother's NICU stay, and I saw firsthand how my own pediatrician made my family feel at ease. My passion for pediatrics grew as I volunteered at a pediatrician's office in college and as I went through my pediatrics rotations."  
UTSW activities: "At UT Southwestern, I have been involved in leadership, serving as a free-clinic Manager for the Agape Clinic and as President of both Healthy Living and the Southwestern Alliance Against Food Insecurity. I have also worked on research projects within the Pediatrics Department, studying eosinophilic esophagitis."  
Surprising fact: "I'm a huge Nintendo nerd. In fact, I have caught all 898 existing Pokémon in the mainline video game series since the release of Pokémon Crystal on the Game Boy in the year 2000. I'm also a sneaker enthusiast/sneakerhead, with my favorite sneakers being the Jordan 1 and 4."  
Future plans: "I am thrilled to be pursuing a residency in pediatrics. My passions lie in preventive medicine and advocacy, and I'm currently considering a career in primary care."  
About the award: The award recognizes a fourth-year medical student who shows empathy and compassion for sick children, has significant knowledge, and maintains a good sense of humor. Dr. Wey was a 1998 UT Southwestern graduate who died in a car accident. The award is established by family and friends to honor his life.