Dr. Anika Morgado: Dr. Richard Mays Smith Award
Experiences with medical professionals who demonstrated compassion inspired Dr. Anika Morgado to follow suit. Gratitude for the opportunities she received in the U.S. as the child of Venezuelan immigrants led to her desire to become a physician committed to helping underserved Latinx communities.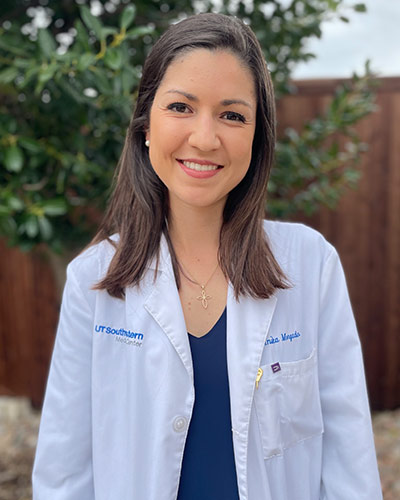 What this award means: "When I think back to what led me to pursue medicine in the first place, at the forefront are experiences with medical professionals who emanated a spirit of compassion and empathy. I'll always remember shadowing the pediatrician who warmly reassured worried parents and the surgeon who had a tremendous bedside manner. These experiences consistently motivated me to focus on providing empathic and humanistic care to all patients. Consequently, I am both humbled and honored to receive this award." 
Mentor comment: "Anika's clinical acumen exceeds her level of training – repeatedly drawing favorable comparisons to first-year residents. Her ability to distill complex patient presentations in a structured, concise manner is a testament to her competence and maturity. Anika's professionalism, critical thinking skills, and empathy will allow her to thrive during residency. Anika has the makings of a future chief resident and will be an outstanding physician." – Dr. Ahmad Anshasi, Assistant Professor of Internal Medicine
Background and family: "My family is originally from Caracas, Venezuela, and moved to the United States when I was about a year old. They left behind their family, friends, and economic stability with the hopes of providing better opportunities for their children. My interest in medicine and compassion come from my mother, and my work ethic and ambition come from my father."
What led to your career path: "I grew up in a Spanish-speaking household, which meant that from a young age I was impacted by two unique cultures. It also meant that I was able to witness what life as an immigrant was like by watching my parents experience it firsthand. These experiences sparked my desire to use my ethnicity to help others experiencing difficulties stemming from cultural barriers. In medicine, I found that I could easily apply this passion by striving to incorporate cultural competency and accommodate a patient's diverse background when providing medical care for them. I have loved using my background to help care for the underserved Latinx community, and I hope to continue making this a priority in my career."
UTSW activities: "While here, I enjoyed volunteering and translating at the student-run free clinics as well as participating in leadership for United to Serve. I was Senior Hunger Chair of a student organization focused on food insecurity, got involved in the Culinary Medicine elective and outreach, and served as a medical student tutor through Student Academic Support Services."
Surprising fact: "I love the outdoors, but I'm deathly afraid of several bug species. Usually, this doesn't deter me from hiking or camping, but it does provide free entertainment for my company."
Future plans: "I plan on pursuing my residency in internal medicine and have a special interest in longitudinal care and preventive medicine. My current plans include going into primary care or a fellowship in rheumatology.
About the award: The award is given annually to one or more graduating medical students who excel academically during clinical rotations and exhibit an interest in and compassion for patients.