Appendicitis scare inspires Ho Din Award winner to surgical career as way to help people in need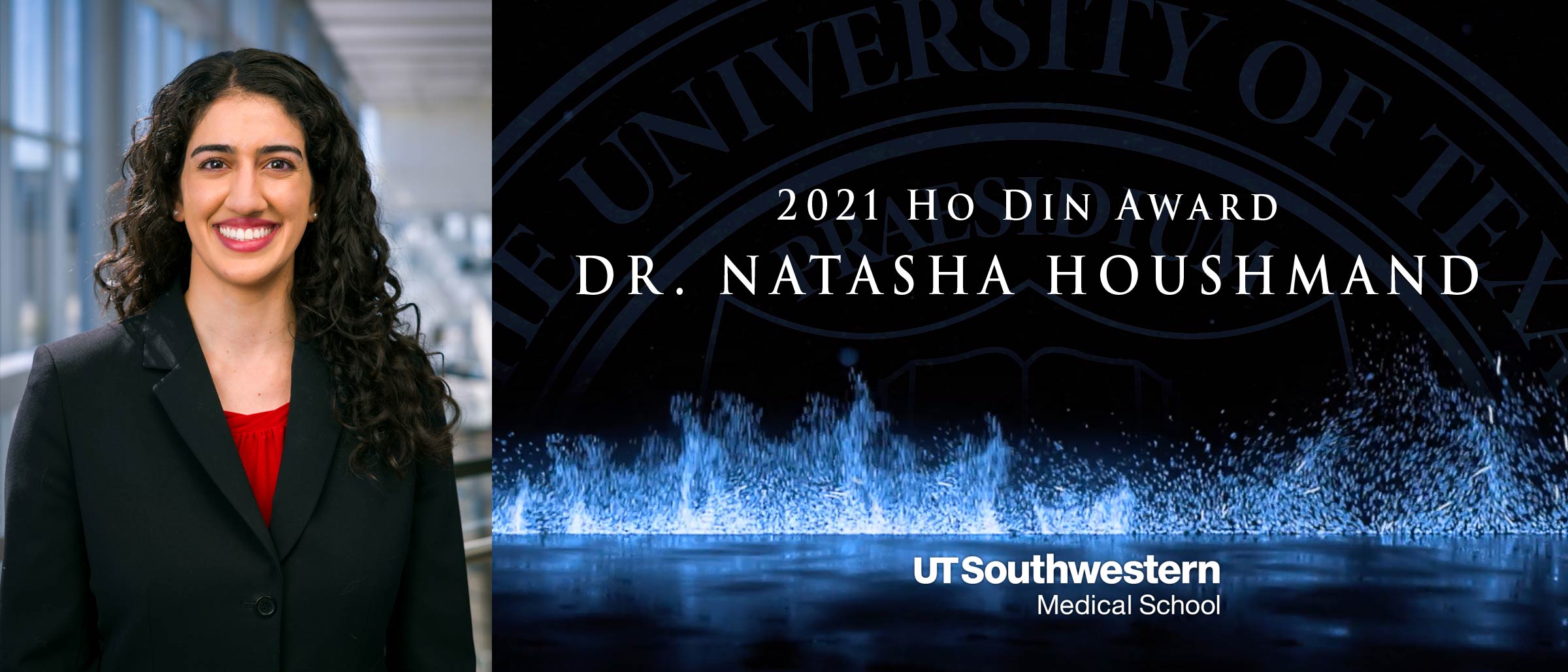 A childhood health scare set in motion Dr. Natasha Houshmand's career path to becoming a physician. At age 7, with intense abdominal pain, she was taken to an emergency room. A doctor quickly put her and her frightened parents at ease with a diagnosis of appendicitis and a plan to correct it – surgery.
That experience of compassionate, effective patient care left an indelible mark that inspired her to enter medical school and then become a surgeon herself.
Dr. Houshmand's dedication and skill in patient care have led to her selection as winner of the Ho Din Award, UT Southwestern Medical School's most prestigious honor, given each year by Southwestern Medical Foundation to recognize a doctor with attributes inherent in great physicians. It was established in 1943 and comes with a medal, certificate, and $10,000 scholarship.
"Natasha is a born leader who inspires others with her commitment to excellence and absolute dedication to serve," said Dr. Angela Mihalic, Dean of Medical Students, Associate Dean of Student Affairs, and Professor of Pediatrics. "I have no doubt that she will remain a role model throughout her career, will positively impact countless patients, and will make UT Southwestern very proud to have played a role in her education."
In the years following her recovery from appendicitis, Dr. Houshmand's interest in medicine grew. As a 15-year-old high school senior (she skipped grades 6 and 7 in school), she persuaded a Dallas surgeon – the father of a schoolmate at her private school – to let her tag along one Saturday while he visited patients during rounds.
That trip turned into regular Saturday observations. The next fall, in 2013, she entered the University of Texas at Dallas as a biology major at age 16, and her trips increased to Tuesdays and Thursdays. Soon she began accompanying Dr. Matthew Pompeo to the surgical suite to watch whenever she could.
She vividly remembers her first surgical observation. Dr. Pompeo, a general surgeon affiliated with Texas Health Dallas, specializes in wound care for diabetic patients, Dr. Houshmand said – which means he does a lot of amputations.
"It was a below-the-knee amputation," she recalled, and she was standing right next to the patient. "My reaction was probably shock at first, but it quickly turned into fascination. I just thought, 'Wow. He saw a problem and he solved it.'"
"I could see myself doing something that direct and concrete – being able to see a problem and, as a surgeon does, take care of that problem. Dr. Pompeo did seem a little impressed that I didn't pass out."
Dr. Houshmand graduated magna cum laude from UTD in 2017 and was accepted to the Medical School, where her experiences with Dr. Pompeo gave her a head start in anatomy class and when treating clinic patients with diabetes. "I knew how devastating it could be on the other end," she said.
After graduation, Dr. Houshmand will begin a general surgery residency at Johns Hopkins Hospital in Baltimore. Later, she hopes to complete a surgical critical care fellowship.
Such surgeons often work in emergency rooms, tending to patients who need immediate attention for gunshot wounds, traffic accidents, falls – or acute appendicitis, she said. Because of the intellectual challenge from the wide range of injuries treated and the need to act quickly, this type of surgery appeals to her. "Trauma surgeons have to be ready for anything that comes through the door," she said.
Dr. Houshmand said one day she would like to work at a large academic medical center like UT Southwestern, treating patients, teaching, and conducting research.
During her time at UTSW, Dr. Houshmand served as a Vice President for the UT Southwestern Chapter of the American Medical Women's Association. She completed additional work in order to earn a distinction in quality improvement and patient safety along with her medical degree.
"Southwestern Medical Foundation Trustees take great pride in awarding the Ho Din Award to a student who inspires us with both demonstrated medical wisdom and a passion for the betterment of humanity," said Kathleen M. Gibson, President and CEO of Southwestern Medical Foundation. "Natasha Houshmand is a wonderful embodiment of this combination of intellectual and personal skill, which will no doubt change the trajectory of the many lives she will touch for the better."
Besides the Ho Din Award, Dr. Houshmand also received the Hudson-Penn Award, given by the Department of Surgery to a senior medical student whose performance in surgery and attitude toward the care of surgical patients represent the highest standards of the Medical School. The prize, established in 1979, was named for the Lee Hudson and Robert Penn families.
"Natasha Houshmand has all the qualities that we seek to foster in future surgeons: proclivity for technical work, the restless intellect of a scholar, passion for the field, and empathy for patients," said Dr. Herbert Zeh, Chair of Surgery.
The two awards are humbling for Dr. Houshmand. "Receiving this recognition for doing the work that I love doing and I have enjoyed doing … I feel very lucky and very, very humbled to be in this position," she said.