Innovation at Pegasus Park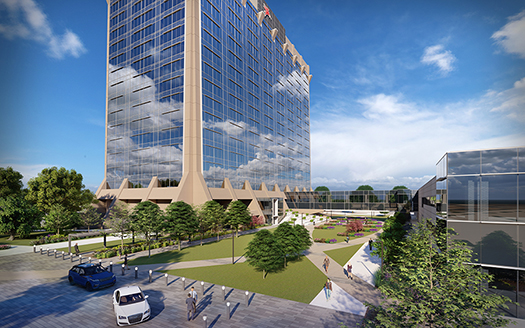 Plans are underway for UT Southwestern's Office for Technology Development to move to its new home, Pegasus Park in early 2021!
Pegasus Park is a 23-acre campus designed to drive healthcare innovation, social impact and meaningful connections. Anchoring the Southwestern Medical District on the western side, this new initiative has already become the nexus for collaboration across North Texas. The park has nearly 40,000 square feet of flexible lab, training and office space available for entrepreneurs to pursue their next big scientific breakthroughs.
Boasting new state-of-the-art facilities and amenities, such as a conference center and wet labs, the development will feature four components – a healthcare-focused hub, a nonprofit community, commercial tenants, and entertainment and dining venues. Strategically located between the Southwestern Medical District and Dallas Design District, Pegasus Park offers a central location for the convergence of entrepreneurs, industry leaders, nonprofit groups and academic institutions.
Embedded within this novel campus, the Office for Technology Development will facilitate technology commercialization to corporate partners and catalyze the next generation of healthcare advances.