Diversity Student Profiles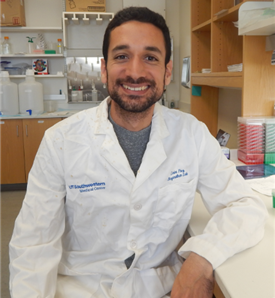 Carlos Paz
Graduate Program: Cell and Molecular Biology
Mentor: James Collins, Ph.D.
Hometown: La Mirada, California
Awards/Fellowships: HHMI Gilliam Fellowship for Advanced Study, NSF Graduate Research Fellowship, and NIH T32 Pharmacological Sciences Training Grant
I first became interested in science through chemistry because of the beautiful simplicity with which it explained much of the world around me. Like, for example, why salt is added to ice when making ice cream (it lowers the temperature around the ice cream, allowing it to freeze). Also, why water is liquid at room temperature (because of extensive hydrogen-bond networks). As I learned more chemistry, I was exposed to different applications of it, and found biochemistry the most interesting field within the larger chemistry world.
Over the years, I was fortunate to participate in several research internships, which connected the academic world with the real day-to-day experimentation driving science forward. These internships solidified my interest in science and especially research.
UTSW has a history of important scientific achievements as well as a large and diverse array of faculty in many fields of study, but that just put it in the running along with other notable institutions. There are a few things that set UTSW apart from other schools and brought it to the top of the pile: 1. I had developed a good relationship with Dr. Nancy Street through her visits to SDSU and my recruiting visit to UTSW, and her warmth and familiarity represented the UTSW community well. 2. I had the opportunity to do outreach in Dallas for a primarily Hispanic demographic in the surrounding communities, which was a big factor for me. 3. I have a family, so the low cost of living in the Dallas area was a big draw for my wife and I to be able to raise our children on a graduate stipend.
"The people here are friendly and helpful, there is ample opportunity to give back to underserved communities, and the cost-of-living in Dallas makes it so one doesn't have to eat noodles everyday."
For my research, I am testing small molecule inhibitors to see if they are effective at killing Schistosomes in vitro. Schistosomes are parasitic worms that can live in your body continuously while avoiding your immune system, and infection is prevalent in poor, third world countries in Africa and the Americas. Development of drug resistance to the single available treatment (Praziquantel) could prove disastrous for human health on a global scale. An RNAi knockdown screen was performed on Schistosomes in vitro, which yielded a list of genes that could potentially make good drug targets
The core course (Cell, Proteins, Genes) is great for bringing you up to speed not only with the latest knowledge in various scientific fields, but also what are the current questions being asked and where to position yourself in the research in these fields. Also, a focus on pharmacology sets us up to succeed in nonacademic careers, an important factor in today's crowded academic career path.
For me, I would again choose to come to UTSW for the same reasons that I came in the first place. The people here are friendly and helpful, there is ample opportunity to give back to underserved communities, and the cost of living in Dallas makes it so one doesn't have to eat noodles every day.
---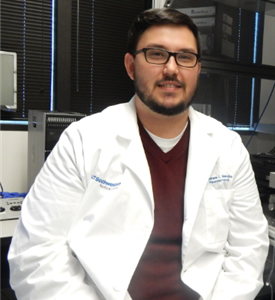 Matthew Mendoza
Graduate Program: Neuroscience
Mentor: Lenora Volk, Ph.D.
Hometown: San Antonio, TX
Awards/Fellowships: Howard Hughes Medical Institute (HHMI) Gilliam Fellowship
I grew up humbly, so science and college seemed completely out of reach. However, critical thinking and problem solving was something I had to learn early on. Oddly, I believe this sort of upbringing has aided in my scientific development. In high school, science was something that piqued my interest, but it wasn't until college that I really fell in love with it. More specifically, Dr. Nicoladie Tam's general biology class where she covered the brain. I remember being so fascinated by how the brain regulates behavior and conscious that I immediately went home and sketched the entire human brain labeling all the regions from memory. I actually still have that sketch.
On a whim, I decided to apply for the UNT McNair Scholars research program. To my astonishment, I was selected to be a McNair Scholar. With the guidance of Dr. Diana Elrod (the former UNT McNair Director) and my undergraduate science mentor Dr. Jannon Fuchs, science research and a potential academic career was no longer a fantasy, but rather a distant attainable reality. Over time, the philosophy and the practice of science became an escape from the chaos of life for me. After I established this passion, I knew that a science career was right for me.
Attending UTSW was a no-brainer for me. The research community, science, medicine, and tradition of academic excellence made my choice fairly easy. Additionally, the cost of living in Dallas related to the graduate student stipend made UTSW stand out when compared to other top-notch research institutions
"I am forever grateful to be a part of this phenomenal institution."
Over the last four decades, neurobiology has gained valuable insight into the cellular, molecular, and circuit mechanisms of learning and memory. However, a complete understanding of how we learn and remember information remains at the frontier of neuroscience research. Thus, my project is aimed at contributing to this fundamental question, but with a small twist. More specifically, my project is aimed at understanding how our capacity to learn and remember information changes dynamically throughout our lifetime. Identifying the cellular, molecular, and circuit mechanisms for this question can provide crucial insights into the progressive pathology of age-related neurological disorders such as Alzheimer's disease and schizophrenia, as well as drive progress in the learning and memory field.
Science is more than designing and performing experiments. The Neuroscience Graduate Program at UTSW recognizes this notion by allowing students to develop skills in communication, data analysis and interpretation, and scientific collaboration. As a student, I get to experience all aspects of science, while also be introduced to world-class biomedical research.
One additional aspect I truly love about the Neuroscience Graduate Program is the opportunity to interact with world-renowned scientist from other institutions. The Neuroscience Department hosts weekly neuroscience seminars where speakers are invited to our institution to give a science talk and meet with professors and students. I've been fortunate enough to have lunch or dinner with some of my science idols like Karl Deisseroth and Karel Svoboda.
Besides the science and education opportunities, the Neuroscience graduate program host "Brain Breaks" where students and faculty take time away from the bench to relax and get to know each other. In addition to the Brain Breaks, we've also had summer Lab Olympics where each lab gets to compete in science-based events consisting of pipette tip shooting, personal protective equipment (PPE) relays, and Science Jeopardy, to name a few. Furthermore, throughout the year the Neuroscience Department hosts numerous holiday events ranging an ugly Christmas sweater contest to a pumpkin carving contest.
The Neuroscience Graduate Program, the Neuroscience Department, and the Graduate School at UTSW make the pursuit of a doctoral degree fun. I am forever grateful to be a part of this phenomenal institution.