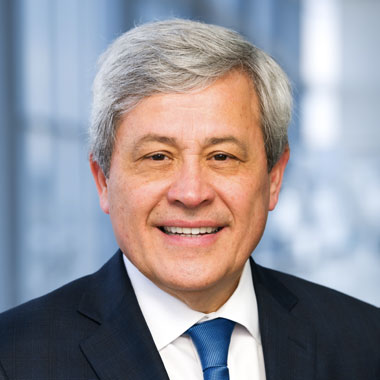 Director of the Simmons Comprehensive Cancer Center and Associate Dean of Oncology Programs
The Harold C. Simmons Comprehensive Cancer Center is one of the world's premier institutions for important and innovative basic science cancer research, along with being a respected home for diagnosis and treatment of the disease. Our designation by the National Cancer Institute as a Comprehensive Cancer Center – one of only a few across the entire country – testifies to that.
However, in some ways, we are just getting started. The mission of the Simmons Cancer Center is to ease the burden of cancer through ground-breaking discovery, transdisciplinary research, impactful community engagement, education, and exceptional patient care.
You can see our determination and vision manifested in Simmons Cancer Center's strategic plan, which is grounded on seven pillars organized around three overarching themes that guide our various activities: (1) bidirectional translational cancer science between the domains of the laboratory, clinic, and community; (2) transdisciplinary research programs; and (3) transformation of the cancer burden in North Texas and beyond.
The unique attributes of Simmons Cancer Center's catchment area, a 13-county Metroplex in North Texas – its size, projected growth, and highly diverse population – distinctively position Simmons to embrace the challenge of pursuing these themes, as do our rapidly evolving strengths in clinical and population sciences, our expanding outreach and research programs, and our significant institutional commitment to growing our physical and intellectual resources.
More specifically, over the next five years and beyond, we plan to take the following actions that will adhere to these themes and advance the science and understanding of cancer, bring discoveries to our patients and the community, and train the next generation of cancer specialists. We will:
Support five research programs – Cellular Networks in Cancer, Chemistry and Cancer, Development and Cancer, Experimental Therapeutics, and Population Science and Cancer Control – in their efforts to discover new approaches to cancer and translate those discoveries into optimized cancer treatments and prevention approaches
Support shared resources that enable Simmons Cancer Center members' research efforts and assist in research project design and analysis
Follow a comprehensive, well-planned strategy that identifies and advances key programmatic priorities
Build on affiliations with health system partners to provide our catchment area with access to state-of-the-art cancer care and clinical trials
Engage with our catchment area to provide optimal access to cancer education and information; prioritize outreach with a focus on disparities; and promote best practices for cancer prevention and control
Create educational and training opportunities that empower a new generation of cancer scientists, physician-scientists, and other health care providers to make a positive impact on cancer research, care, control, and prevention
These are ambitious and challenging objectives but they make it an exceptionally good time to be at Simmons Cancer Center pursuing discoveries, conducting research, treating patients, and receiving training to be among the next leaders in cancer discovery and progress.
We invite you to explore all that we are at the Harold C. Simmons Comprehensive Cancer Center and consider all that we plan to be. We believe the future of cancer discovery care today is at the Simmons Cancer Center.
Best,
Carlos L. Arteaga, M.D.