Sagalowsky named Professor Emeritus of Urology after 42-year career – and more than 8,000 surgeries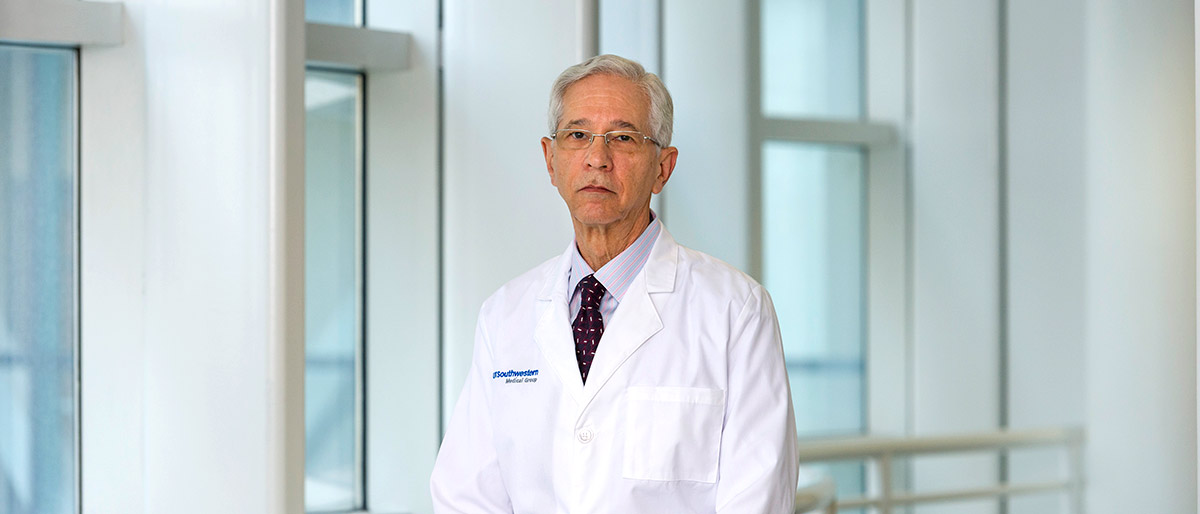 In 1978, Dr. Arthur Sagalowsky completed his residency at Indiana University Medical Center and joined the urology team at UT Southwestern. He chose to focus on urologic oncology – cancer of the genitourinary tract – even though many developments in modern cancer care, such as techniques of molecular biology and immunotherapy, were far in the future.
The optimistic young surgeon believed that multidisciplinary teams of surgical, medical, and radiation oncologists, paired with molecular basic researchers, ultimately would lead to new clinical trials and lifesaving treatments. He hoped to be part of a team that would establish UTSW as a top center for research and treatment of patients with urologic cancers.
"Despite my love of surgery, I always believed the major advances in cancer care would require better understanding of cancer biology, which in turn would lead to vast improvements in treatment and patient outcomes," Dr. Sagalowsky said.
A two-year fellowship in clinical pharmacology turned into a lifelong career at UT Southwestern. Forty-two years later, Dr. Sagalowsky has retired and, effective earlier this year, was appointed Professor Emeritus of Urology. Along the way, he kept a handwritten logbook of more than 8,000 surgeries, many of them complex procedures.
"Few physicians, if any, will match the sheer scope of work done by Arthur Sagalowsky on this campus, the breadth of the disease spectrum, the academic impact, and the illustrious, long years of service to the community, Department of Urology, institution, and urology as a specialty," said Dr. Claus Roehrborn, Chair of Urology. "He is the last bridge to the early days of the fledgling UT Southwestern division from the 1970s to the modern Department of Urology as it is today."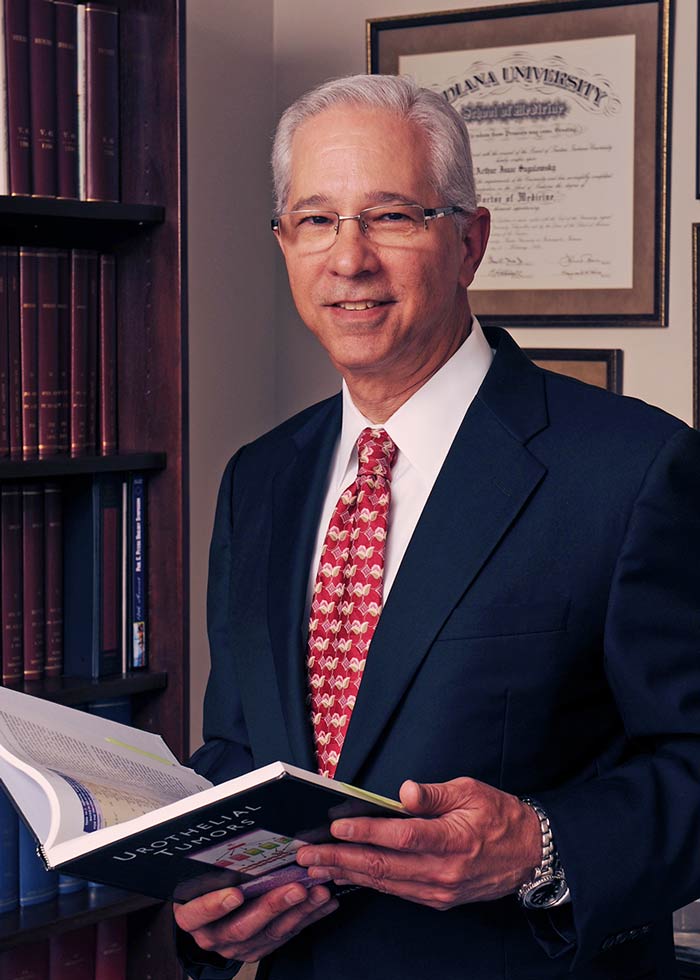 Over the years, Dr. Sagalowsky has seen a steady path of improved cancer care. "It's been tremendously humbling and rewarding. As one example, for over 20 years, I received an annual Christmas letter from a kidney cancer survivor whose tumor had grown all the way into the heart. He would thank me and tell me what he got to experience with his family in the past year, because he had that year of life," Dr. Sagalowsky recalled.
His ambition was first seeded in Indiana, where he and his older brother grew up with parents in a family setting where education, hard work, pursuit of excellence, and love of family were highly valued and expected.
As a medical student, Dr. Sagalowsky knew he wanted to be a surgeon. Initially he was torn between neurosurgery and urology. The wide variety of diseases treated by urologists and the combination of complex surgical procedures and ongoing medical care appealed to him. During those same years, the introduction of the new chemotherapeutic agent cisplatin at Indiana University Medical Center (IUMC) by medical oncologist Dr. Lawrence Einhorn changed the outlook for patients with advanced testicular cancer from high mortality to the most curable cancer at that time. Suddenly both urology and medical oncology at IUMC were in the spotlight. Dr. Sagalowsky, like his older brother before him, made up his mind to become a urologist and urologic oncologist with a focus on improving outcomes for patients with kidney or bladder cancer. He served as UT Southwestern's Chief of Urologic Oncology from 1994 to 2011, and he joined the Southwest Oncology Group Urologic Cancer Outreach Program, which opened the way for campus participation in multicenter National Cancer Institute (NCI)-supported clinical trials in genitourinary cancer.
Dr. Sagalowsky made contributions at both ends of the spectrum of kidney cancer. He was one of the early proponents of kidney-sparing partial nephrectomy (carving the tumor out of the kidney) for the great majority of patients with localized kidney cancers. He also created a team approach involving cardiac surgery and cardiac anesthesia for safe removal of locally advanced kidney cancers that have a tumor clot growing out the renal vein and even up into the heart. This team approach has reduced surgical complications for these high-risk cases and made UTSW a major referral center.
His contributions for bladder cancer patients include advancement of clinical trials for instillation of medications into the bladder for patients with noninvading cancers, and preoperative chemotherapy for patients with muscle-invading cancers. He was one of the first urologists to create internal continent urinary diversion "neobladders," using part of the intestine for selected patients who require bladder removal.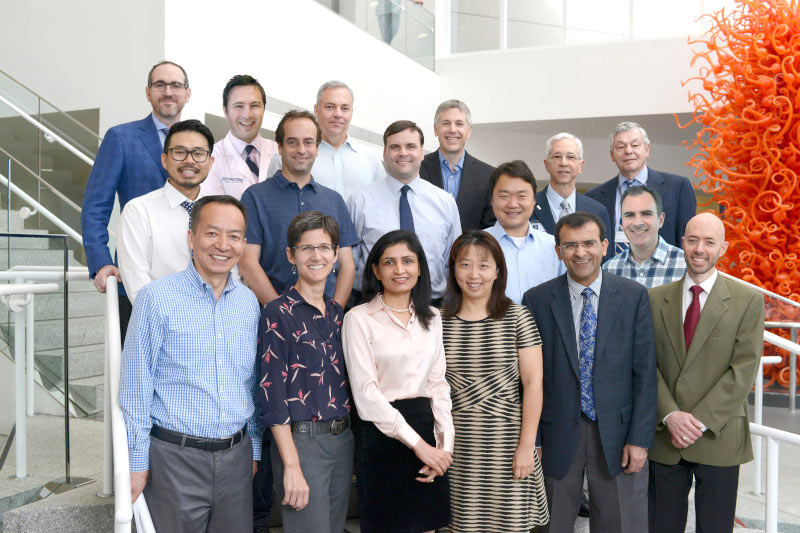 Dr. Sagalowsky witnessed the founding of the Harold C. Simmons Comprehensive Cancer Center in 1991, and in 2016 he joined the UT Southwestern Kidney Cancer SPORE team. SPORE (Specialized Programs of Research Excellence) grants from the NCI support projects that will result in new and diverse approaches to the prevention, early detection, diagnosis, and treatment of cancer. UT Southwestern's SPORE program is one of just two in the nation for kidney cancer.
Throughout his career, Dr. Sagalowsky has been heavily involved in all levels of education for medical students, residents, fellows, and colleagues. He was Master of Cary College from 2011 until his recent retirement and has trained 150 residents in urology.
"I have had the privilege and opportunity to help train seven chairmen of urology so far, and more than 40 faculty members who are working at academic centers around the country and across the world," said Dr. Sagalowsky. "Student and resident education dovetails with my focus on the next generation. I get a sense of great enjoyment and accomplishment from their careers."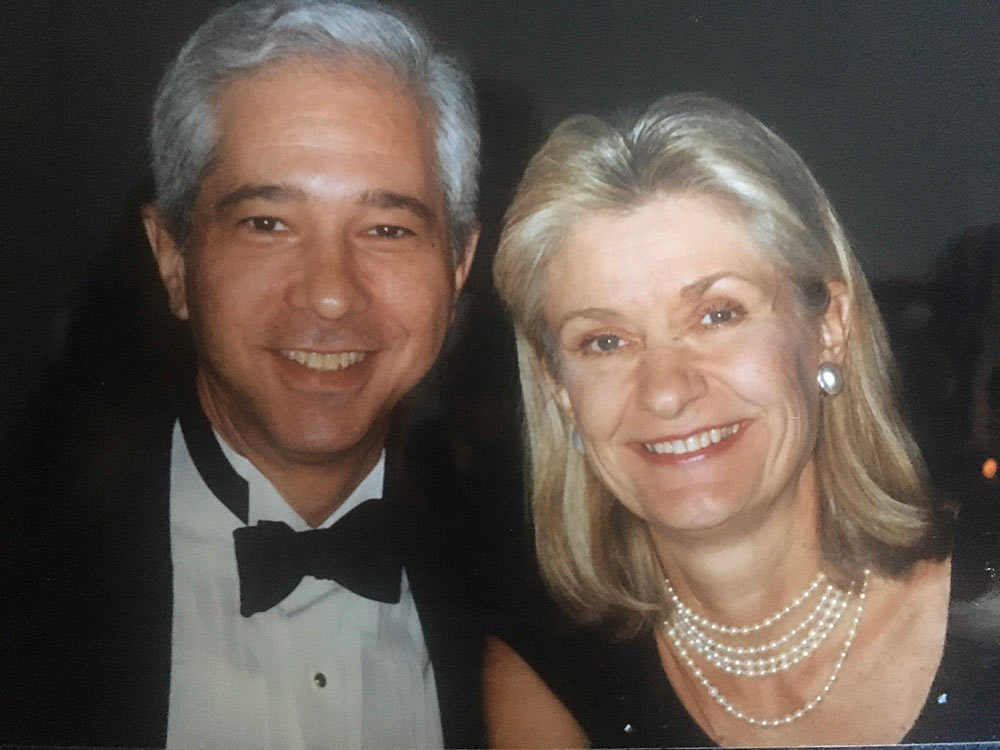 These days, Dr. Sagalowsky enjoys spending more time with his wife, two children, and four grandchildren. This surgeon's hands will also keep busy with other delicate tasks. "I'm fascinated by classical music and fly fishing. I love music and started piano lessons at age 6. Now I hope to play piano, read, and fly fish more often."