Almost 100 longtime employees celebrated for their contributions to UT Southwestern's history of innovation, growth, and success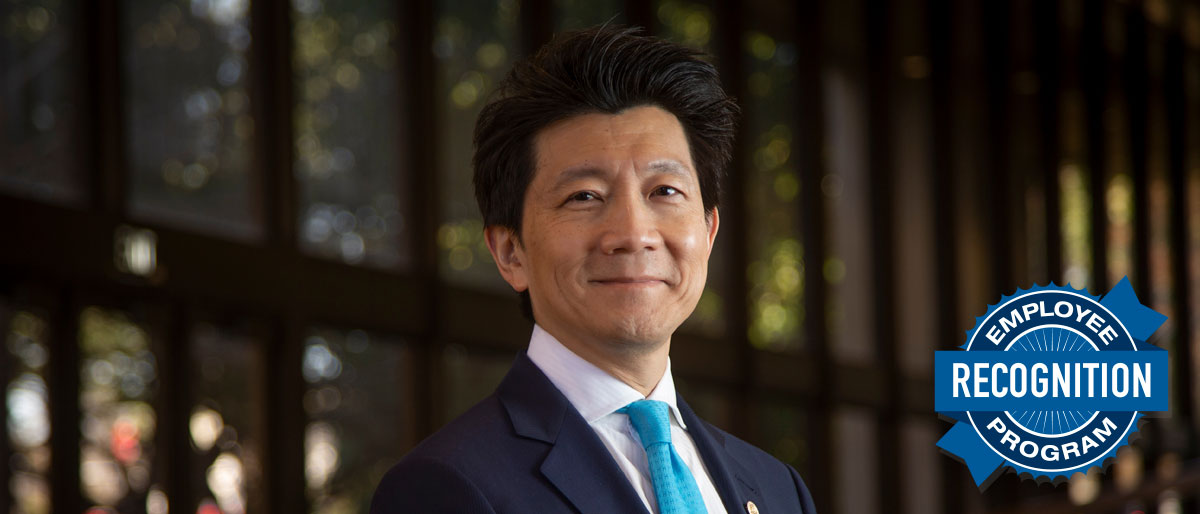 Longtime employees who have reached career milestones at UT Southwestern will be honored during Employee Recognition Week in June for dedicated work that has contributed to the institution's growth and success.
In all, 94 honorees marking 25, 30, 35, 40, or 45 years of service have been invited to a celebration on June 9 hosted by Dr. Daniel K. Podolsky, President of UT Southwestern. Among invited guests are two employees who have been at the institution 45 years, and 10 employees with 40 years of service to UT Southwestern. Another 54 will join the Quarter Century Club, meaning they have reached the 25-year service mark.
The keynote speaker is Dr. W. P. Andrew Lee, Executive Vice President for Academic Affairs, Provost, and Dean of UT Southwestern Medical School. Dr. Lee, who joined UT Southwestern in 2019 from The Johns Hopkins University School of Medicine, will speak about team building to achieve innovation.
"UT Southwestern has had a remarkable tradition in basic science research," Dr. Lee said, and it is also rapidly expanding patient care at William P. Clements Jr. University Hospital and UT Southwestern clinics. "None of these achievements would have been possible without the dedication and capabilities of our employees, particularly those who have contributed to the institutional missions for a sustained period of time. Their loyalty and focus on excellence are truly valued."
An internationally recognized hand and transplant surgeon, Dr. Lee formerly served as Director (Chair) of the Department of Plastic and Reconstructive Surgery at Johns Hopkins. He led the surgical team that performed the first double-hand transplant and the first above-the-elbow arm transplant in the United States. Many of his surgeries were performed to restore function to military personnel who had suffered devastating combat injuries.
Dr. Lee moved to the U.S. from Taiwan at age 15. He graduated from Harvard College, then attended Johns Hopkins, where he later completed the surgery residency and a fellowship in microsurgery. He also completed a residency in plastic surgery at Massachusetts General Hospital.
At UT Southwestern, Dr. Lee has focused on enhancing institutional leadership and establishing new educational offerings.
In support of these efforts, a new position of Vice Provost and Senior Associate Dean for Clinical Research was created. "We aim to enhance the infrastructure and support in clinical and translational research for our faculty to engage in productive clinical investigations and trials," he said.
Also during Dr. Lee's tenure, new positions in Academic Affairs have been established to emphasize UT Southwestern's strategic initiatives to promote diversity, inclusion, and wellness among faculty, trainees, and students. Leaders for new key positions in diversity and inclusion include an Associate Dean for Faculty Diversity, an Assistant Dean for Diversity and Inclusion in the Graduate School of Biomedical Sciences, and an Assistant Dean for Diversity, Inclusion, and Equity Affairs in the School of Health Professions. Focusing on the physical and mental health of faculty, a new Assistant Dean for Faculty Wellness was also added.
To utilize technology efficiently and enhance UT Southwestern's processes for extracting, analyzing, and sharing the rich clinical data produced at the institution, a Clinical Informatics Center has been established. Related to that effort, plans are underway to launch a Master of Science in Health Informatics Program and a Clinical Informatics Fellowship, Dr. Lee said.
In another significant initiative, in February UT Southwestern received approval from The University of Texas System Board of Regents to establish a School of Public Health. "We plan to establish a research-intensive, 21st century School of Public Health at UT Southwestern by building upon our existing strengths in biomedical sciences and clinical care of diverse patient populations," Dr. Lee said.
"Despite its economic growth, Texas has been lagging the country in a number of key health care indices," he said, "and the lack of public health expertise was painfully evident during the COVID-19 pandemic in the ineffective implementation of preventive interventions, epidemiologic crisis response, surveillance, and contact tracing."