Delivering exceptional patient care during a pandemic: Health System Celebration of Excellence event highlights importance of teamwork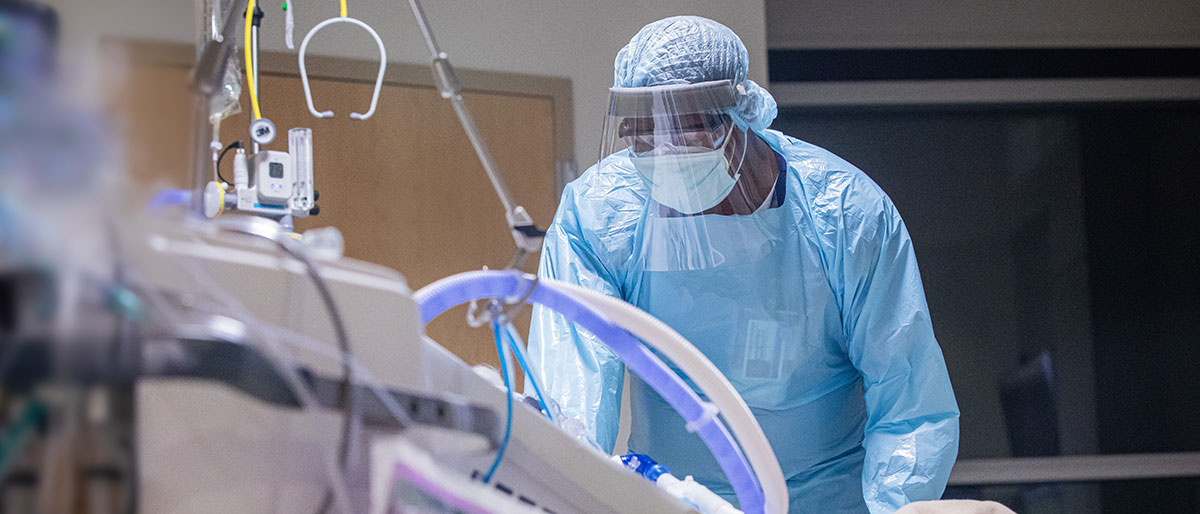 While UT Southwestern's health care teams and staff bravely faced challenges from a pandemic this past year, they also came up with innovative ways to improve patient care.
Health System faculty and employees submitted more than 100 proposals for this year's Health System Celebration of Excellence poster competition – everything from a way to cut medication costs to a strategy to reduce the number of babies transferred to the Neonatal Intensive Care Unit for low blood sugar. These were among the eight projects honored at the March 26 event, held virtually this year due to COVID-19. A finalist and a winner were chosen in each of four categories – quality, service, people, and financial stewardship – from posters that described an idea for improvement. In other awards, four employees were recognized for efforts to improve patient safety.
For employees only: An expanded recording of the keynote, fireside chat, and poster competition results is available for viewing on the Health System Portal. (UTSW login required.)
"We have a lot to celebrate," Dr. William Daniel, Vice President and Chief Quality Officer, told the more than 1,150 people listening in during the third annual Celebration of Excellence, noting the UTSW staff's accomplishments during these trying times. "In fact, our ability to achieve these kinds of results in the midst of a pandemic – no matter how exhausting – may be our finest hour," said Dr. Daniel.
Watch: Mother shares patient care story of brain surgery and delivery of quadruplets
Achieving clinical excellence is not about buildings and facilities, added Dr. Daniel K. Podolsky, UT Southwestern President – "It is asking every day, 'In what way can we make our care better, safer, more patient-centered?'"
The theme for this year's event was teamwork, with an address from keynote speaker Dr. Eduardo Salas, Chair of Rice University's Department of Psychological Sciences.
Dr. Salas spent 15 years as a research psychologist and headed training technology development at the U.S. Naval Air Systems Command (NAVAIR-Orlando) in Florida before joining academia. He co-authored the book, "Teams That Work: The Seven Drivers of Team Effectiveness," and received the 2016 Lifetime Achievement Award for Contributions to Psychology from the American Psychological Association.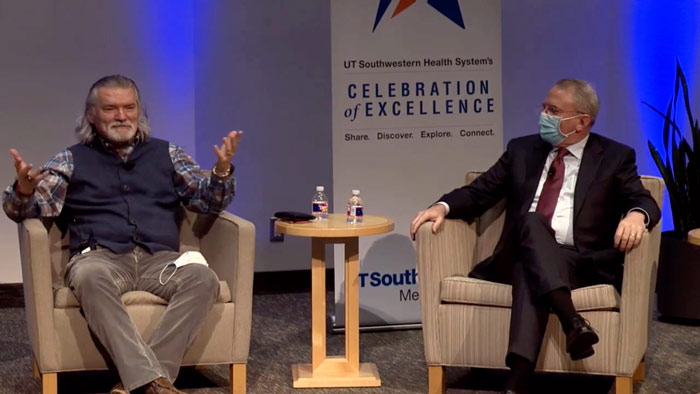 "We now know that teamwork in health care really does matter – that teamwork leads to saving lives, improvements in patient safety, and improvements in quality of care," Dr. Salas told the audience. An analysis of research showed health care systems that use team training reduced medical errors 18 percent and improved patient mortality rates 6 percent, he said.
To have good teamwork, an organization needs capable employees who have a shared understanding and a willingness to cooperate and coordinate, Dr. Salas said. Communication and good coaching from leaders are also important, he said, but the critical element is having the tools in place to support the effort, he added.
Academia is "terrible" when it comes to recruiting the type of employees who are more interested in working as part of a team than going their own way as lone wolves, Dr. Salas said. And health care systems have a history of keeping toxic employees if they happen to bring in a lot of revenue, he added.
"Don't hire and don't tolerate toxic people," Dr. Salas advised. Health care systems are now more willing to remove revenue generators who are toxic, he said.
During a panel discussion following Dr. Salas' talk, Dr. John Warner, Executive Vice President for Health System Affairs, said some employees might feel they have less freedom to speak up than others.
One way to deal with this, Dr. Salas said, would be to have the doctor in charge kick off rounds by telling subordinates, "I like to be challenged." Or a department could put up posters that say, "I'm not perfect," he suggested.
Dr. Salas complimented UT Southwestern for addressing the issue, saying it is one of the few institutions with the courage to do so.
Employees here have shared goals – a key to success, he said. "You as a culture, as an organization, care about what you do," Dr. Salas said.
Dr. Warner said UT Southwestern's commitment to teamwork is what brought him here, and it is "teamwork that has kept me here."
He listed some of the institution's recent accomplishments: more than 2,000 COVID-19 outpatients were treated through March 15, in addition to almost as many inpatients. By the end of March, employees had administered more than 225,000 COVID-19 vaccine doses.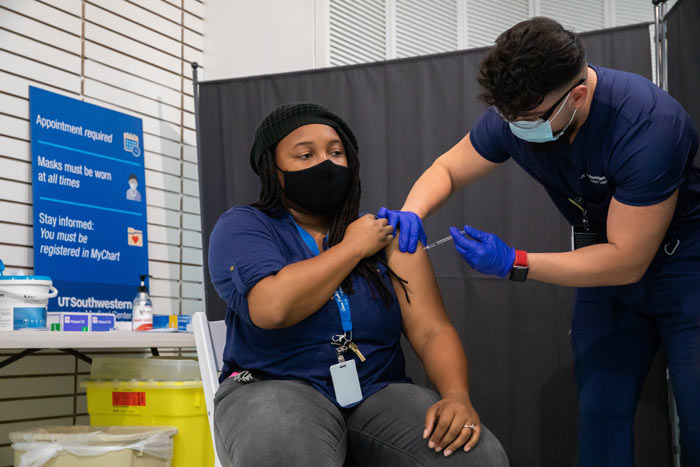 Meanwhile, UT Southwestern ranked eighth among the nation's academic medical centers in the Vizient Quality and Accountability Rankings for patient mortality rates in 2020 and at the top 97th percentile for patient satisfaction by Press Ganey Associates, a company that performs patient surveys.
UT Southwestern completed the third tower of William P. Clements Jr. University Hospital on time in the middle of a pandemic and is now constructing new facilities across the street to add needed space for cancer patient care and brain research, he said. Future plans call for extending UT Southwestern's reach by building facilities at seven to nine locations throughout North Texas. "We want to be the preferred broad-scale specialty provider in North Texas," Dr. Warner said.
A video featuring the parents of quadruplets born at UTSW last summer provided an example of how good teamwork can impact patients.
Faced with a couple expecting four babies, doctors came up with a plan, said Dr. Becky Ennis, Associate Professor of Pediatrics. When the big day arrived, there were three health care providers ready to focus on each new life, she said.
"I have beautiful, healthy baby boys, and I don't know if that would have been possible if it weren't for UT Southwestern," their mom, Katie Sturm, said in the video.