A match made at UT Southwestern: Alumni couples share their love stories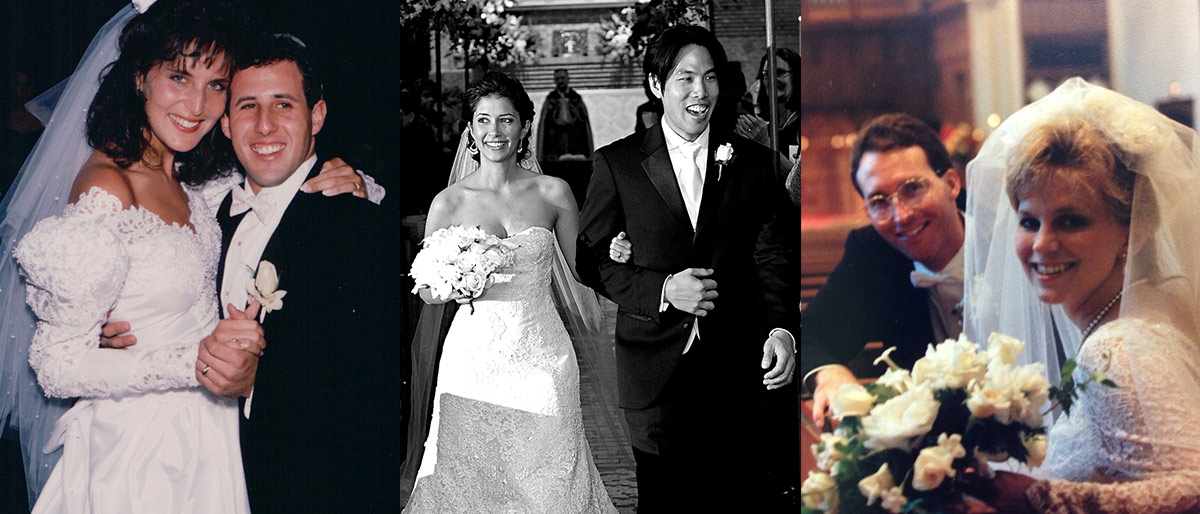 UT Southwestern is not only an excellent training ground for thousands of physicians, health care professionals, and scientists, but for some it is also the place where they met their significant others. In celebration of Valentine's Day, Alumni Relations and Center Times contacted several couples who met at UTSW as medical, graduate, or health professions students, or as residents. Here are some of their stories of romance.
Drs. Kenny Yang and Katie Sternweis-Yang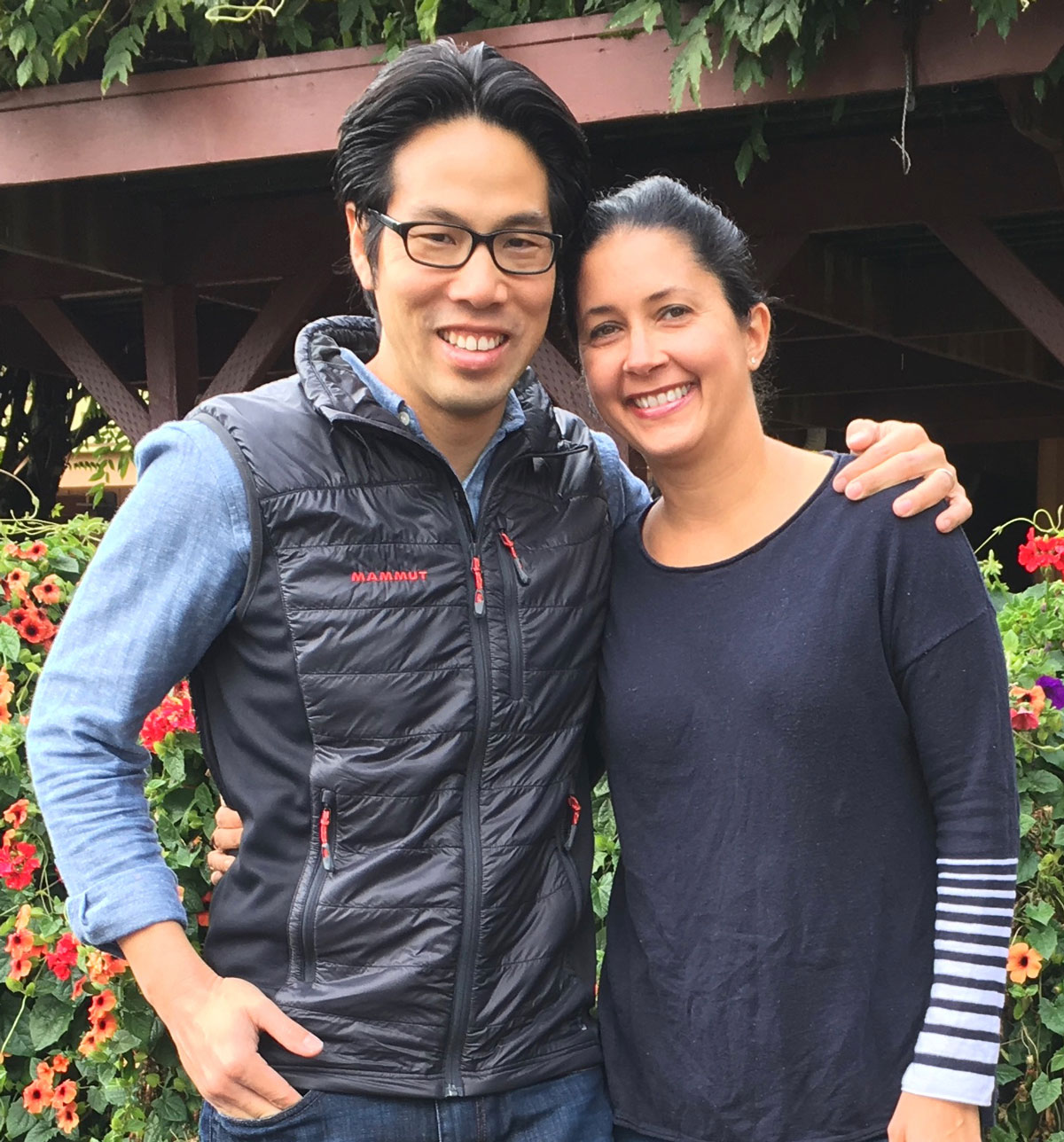 Dr. Katie Sternweis-Yang describes her chance meeting with Dr. Kenny Yang as something like the movie, "Sliding Doors," when someone's fate is changed in a matter of seconds. "We literally passed each other in the doorway of Kathleen's Art Café," she said.
Dr. Yang was leaving with a friend from residency while Dr. Sternweis-Yang was walking in with an artist friend from the UT Southwestern Graduate School of Biomedical Sciences. The friend's artwork had been on display at the café, and Dr. Yang commissioned her to do a painting for his apartment. He returned to the restaurant to get Dr. Sternweis-Yang's number, and once they started talking, it was clear that they shared some unexpected commonalities.
Before the couple started dating, he already knew her father. Dr. Paul Sternweis, Professor Emeritus of Pharmacology, was Dr. Yang's pharmacology Professor at UT Southwestern Medical School.
"Needless to say, I was shocked when Katie said Dr. Sternweis was her father," he said. "It's a small world."
When Dr. Sternweis-Yang brought him home to meet her parents, the first question his former Professor asked was, "Did you ever come to class?"
"For exams," he replied.
Dr. Yang got away with his lack of attendance. He scored well in the Pharmacology class and later scored the heart of the Professor's daughter.
The couple have been married 13 years, live in Fort Worth, and have two sons, Oliver, 8 and Bennett, 6. He graduated from UTSW Medical School in 1999 and works for Texas Digestive Disease Consultants in Fort Worth. She is a 2006 graduate of the Graduate School and a clinical psychologist in private practice at Worth Therapy.
"Kenny and I have a strong relationship because we genuinely like each other. We have many shared interests and we can always make each other laugh, even when we're mad as hell," Dr. Sternweis-Yang said.
Drs. Jim and Katina Thornton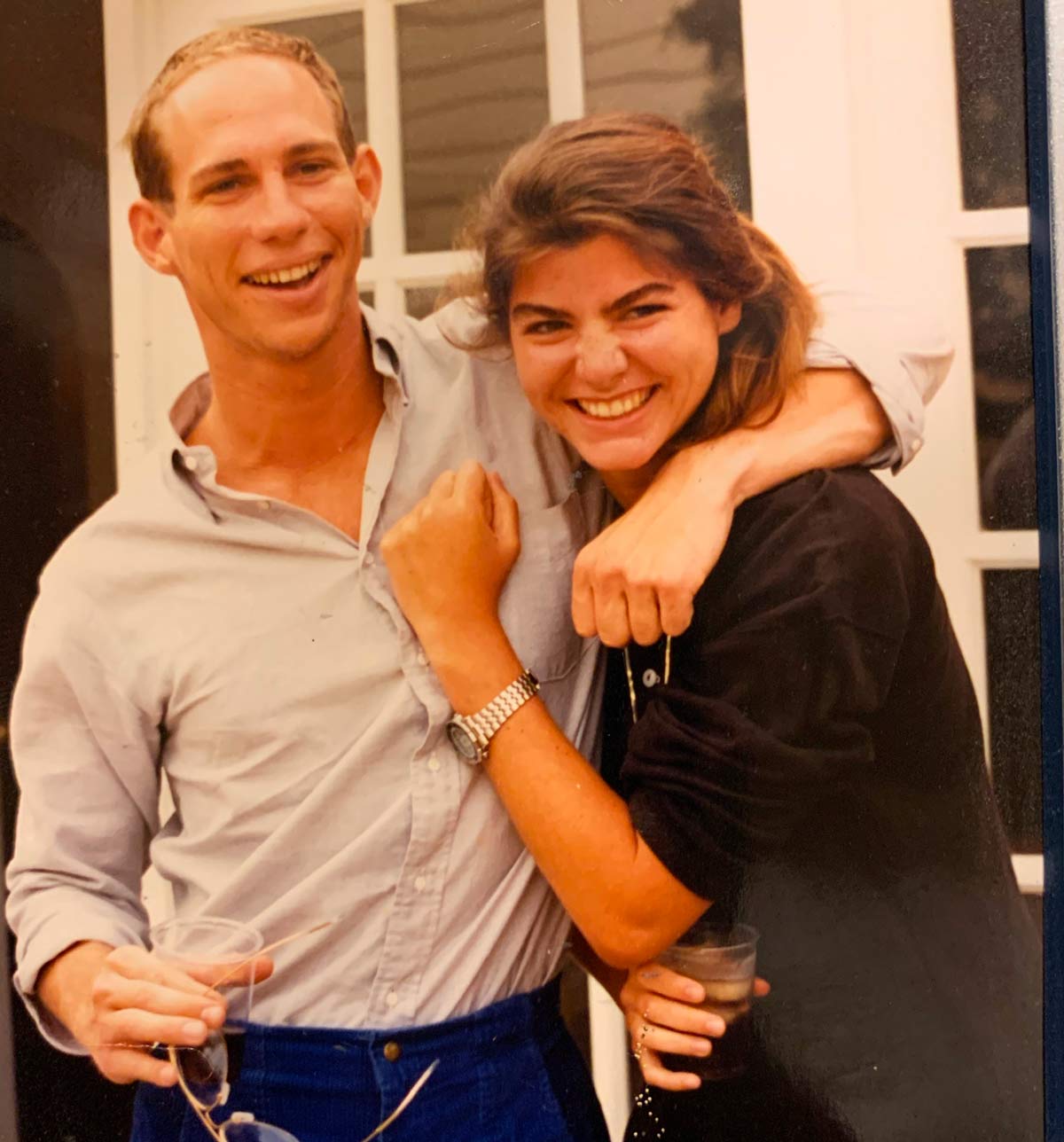 Their romance blossomed in the Parkland Memorial Hospital ER, grew during Medical School, and wound up taking them to Japan.
Drs. Katina and Jim Thornton met in 1986, when she was a first-year UTSW medical student and he was a year ahead of her.
"It was an instant and unexplainable attraction between a scruffy upperclassman and a wide-eyed MS-1," she said.
The couple married after she completed her internship and immediately moved to Okinawa, Japan, where he began serving in the Navy. Their first child was born while he was stationed in Hawaii.
After Dr. Jim Thornton fulfilled his Navy service, the couple returned to Dallas where he completed a residency in general surgery and she in anesthesiology, both at UT Southwestern. Following graduation, they moved to Atlanta, where he finished a plastic surgery fellowship.
Along the way, their family grew to include six children.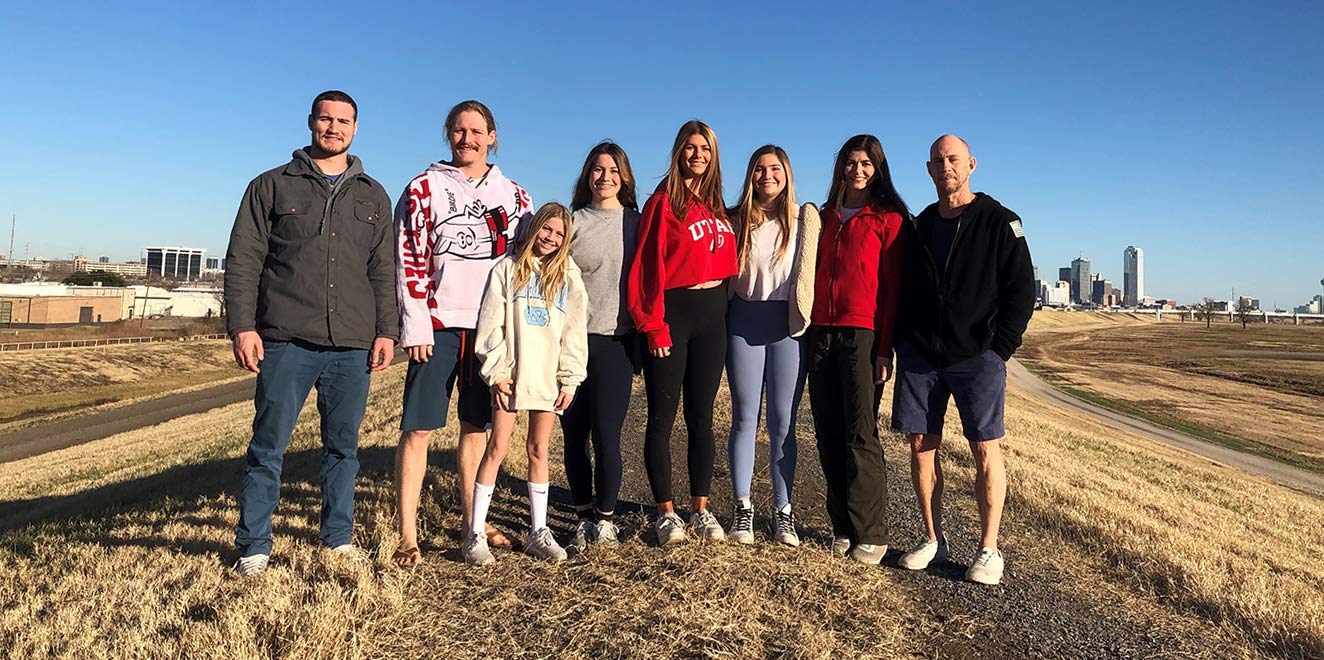 Now married for 30 years, they are back in Dallas, where he is a Professor of Plastic Surgery at UT Southwestern and she is in private practice. The family tradition of becoming a physician continues, with two sons now in medical school at the UT Medical Branch at Galveston.
"We'll see what our four daughters decide to do," Dr. Katina Thornton said.
Drs. Sergio and Alice Viroslav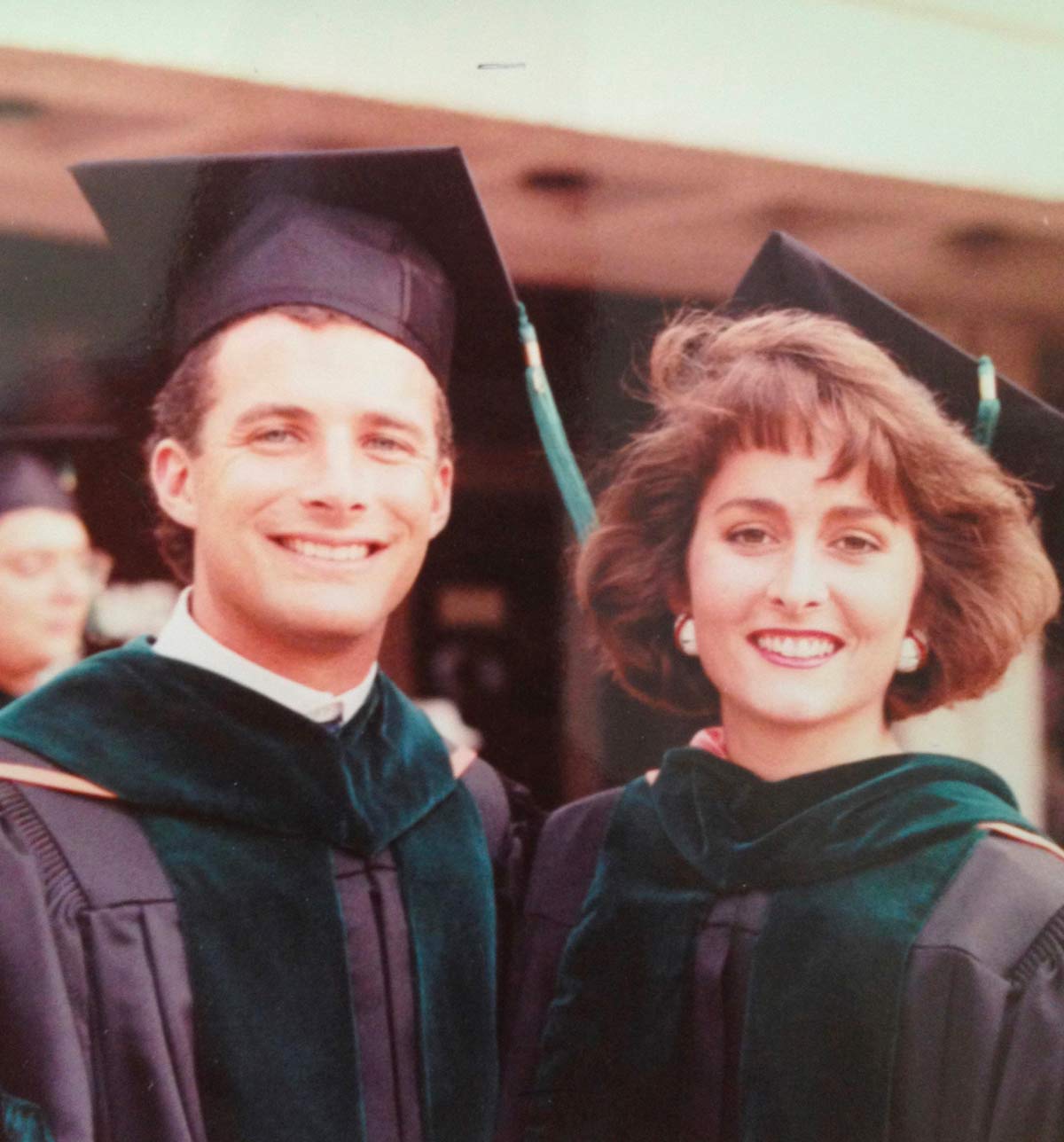 During Medical School orientation, Dr. Alice Viroslav spotted another UT Southwestern student that she simply could not ignore. She later told her mother that she had met the most handsome guy she had ever seen.
The timing wasn't right for the couple then, but there was always a connection between them.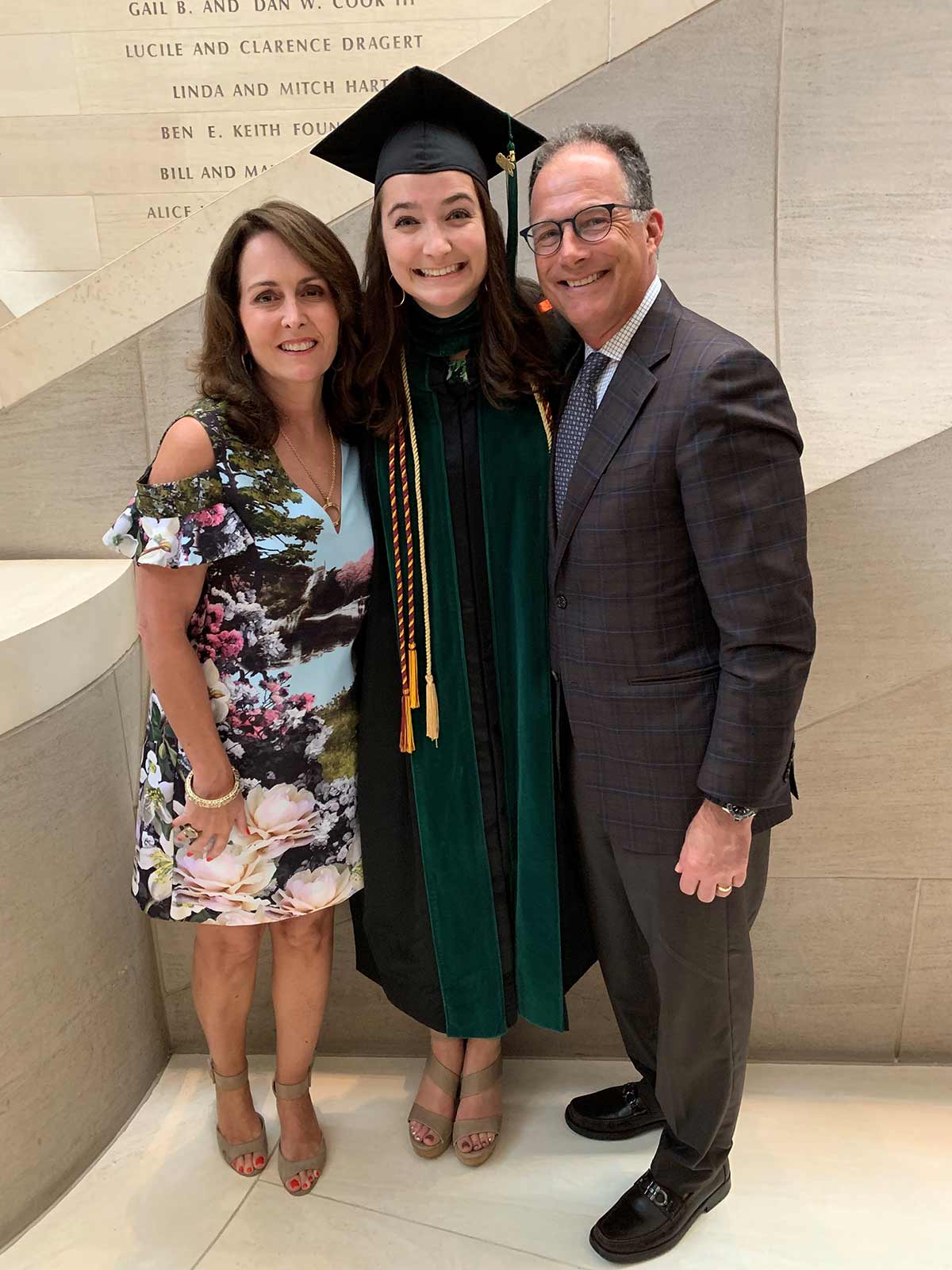 Finally, during their third year of Medical School, they went on their first date. More dates followed and, on the night before Match Day 1989, he asked her to marry him at a popular restaurant.
Over the next 30 years, Drs. Alice and Sergio Viroslav have juggled careers and family. Both are in private practice in San Antonio, where he is in orthopedic surgery and she is in neuroradiology. They have three children, one of whom is following in their footsteps.
"We've kept UTSW in the family," she said. "Our daughter Hannah graduated from UTSW Medical School in 2019 and is now a resident in anesthesiology at UT Southwestern."
Drs. David and Amy Brown Balis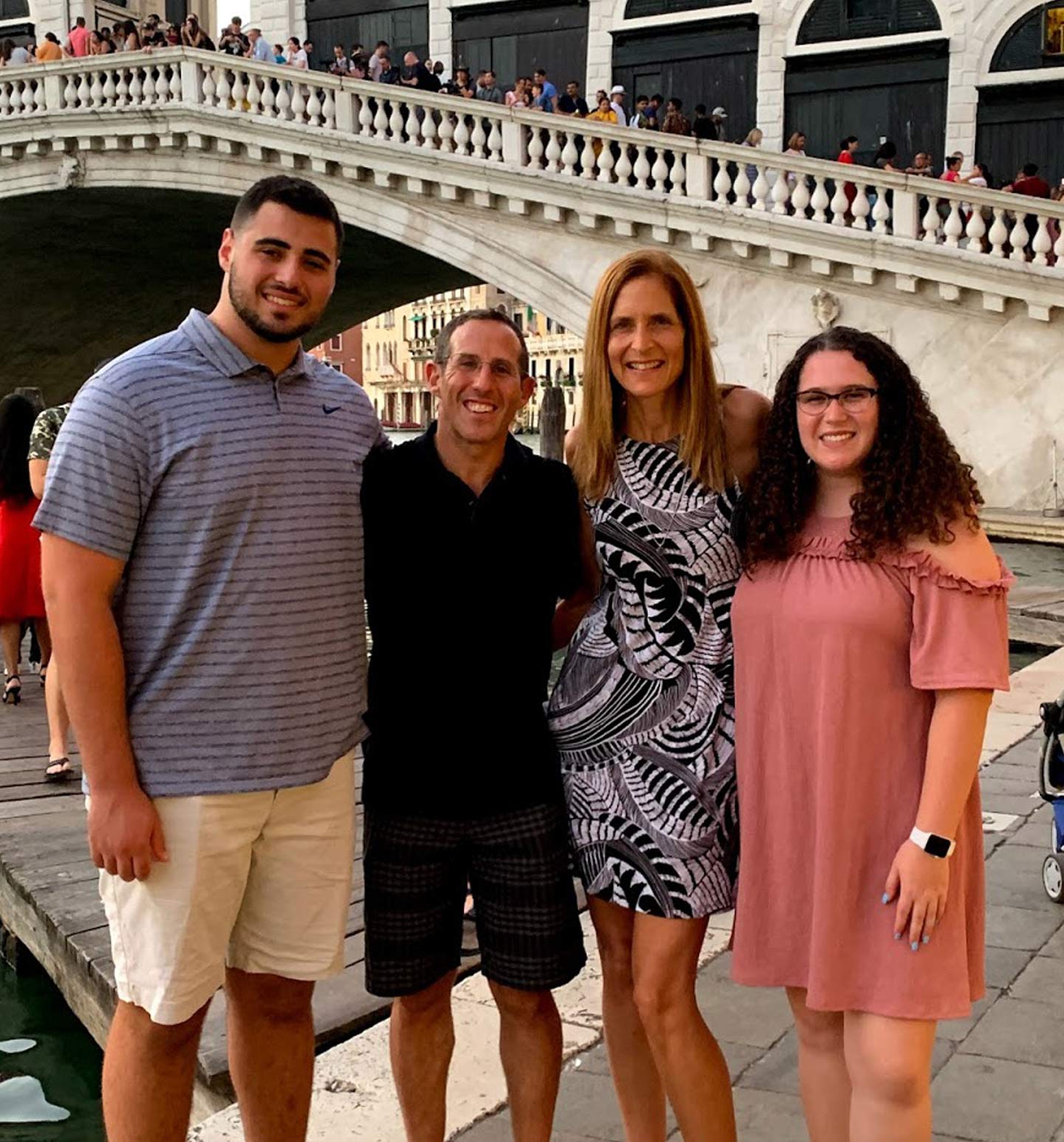 Dr. David Balis was in the middle of an internship in internal medicine at Parkland Memorial Hospital, and Dr. Amy Brown Balis was finishing her fourth year at UT Southwestern Medical School in 1993 when they decided to add a wedding in Florida to their busy schedules. He had graduated from the Medical School one year earlier, in 1992.
Things didn't calm down much when he started his residency in internal medicine and she began hers in radiology a year later, both at UT Southwestern.
Running is a family affair. He is a repeat All-American triathlete – meaning he is in the top 10 percent for his age group and nationally ranked – while she competes in sprint distance triathlons.
"We can always be found swimming, biking, or running on the weekends," she said. "We've gotten our entire family involved in triathlons, doing one with three generations including David's father, his sister, both of us, and our kids!"
Today she is in private practice in breast imaging at Baylor Scott & White Medical Center in Irving. He is a Professor of Internal Medicine at UT Southwestern.
After 28 years of marriage, the couple is still going strong.
"UTSW and Parkland were challenging and amazing places for both of us to learn," Dr. Brown Balis said. "We are truly blessed with wonderful memories of UTSW, which not only brought David and me together, but gave us a beautiful family, fulfilling careers, and lifelong friendships."
Drs. Lee Pride and Tammy McGregor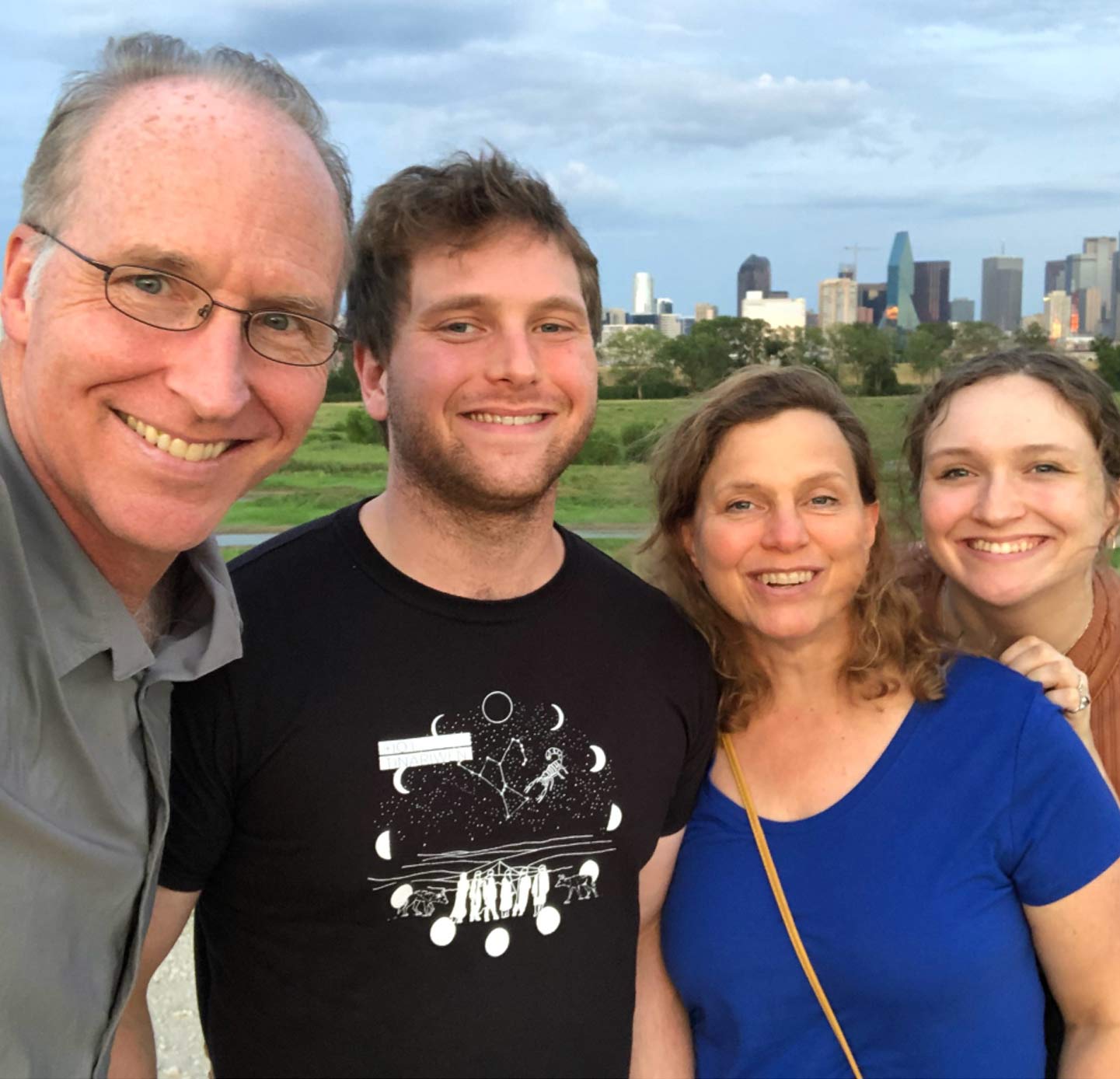 Dr. Tammy McGregor remembers that morning in August 1990 when a tall, bespectacled UT Southwestern neurology resident in wrinkled scrubs burst into a room at the Dallas VA Medical Center, a little late and shuffling his overnight notes.
Dr. Lee Pride had just moved to Dallas for his residency and she, a 1991 Medical School graduate, was doing her neurology clerkship at the Dallas VA Medical Center. She was smitten from the very start.
She tried to hide her feelings, but she blushed whenever she passed him in the hall. He remembers noticing "that confident female student cracking jokes in her neuro group with the unforgettable smile."
Finally, she made the first move, leaving some blueberry muffins and a note for him in his rounding room with an invitation and a callback pager number.
"Lee was floored and called that day," she said. "The rest is history. One date led to another, and we were married at the end of my residency at John Peter Smith Hospital in Fort Worth."
Today they're both at UT Southwestern. He is a Professor of Radiology and Neurological Surgery and she is an Associate Professor of Family and Community Medicine and Internal Medicine.
"Serendipity, a sudden crush, and UTSW neurology led to a 28-year-and-counting marriage and two great kids (David, 26, and Rachel, 24)," Dr. McGregor said.
"Together, we have a combined UTSW trainee/faculty work life of 48 years and a lot of great stories," she added.
Drs. Murali Chakinala and Lisa de las Fuentes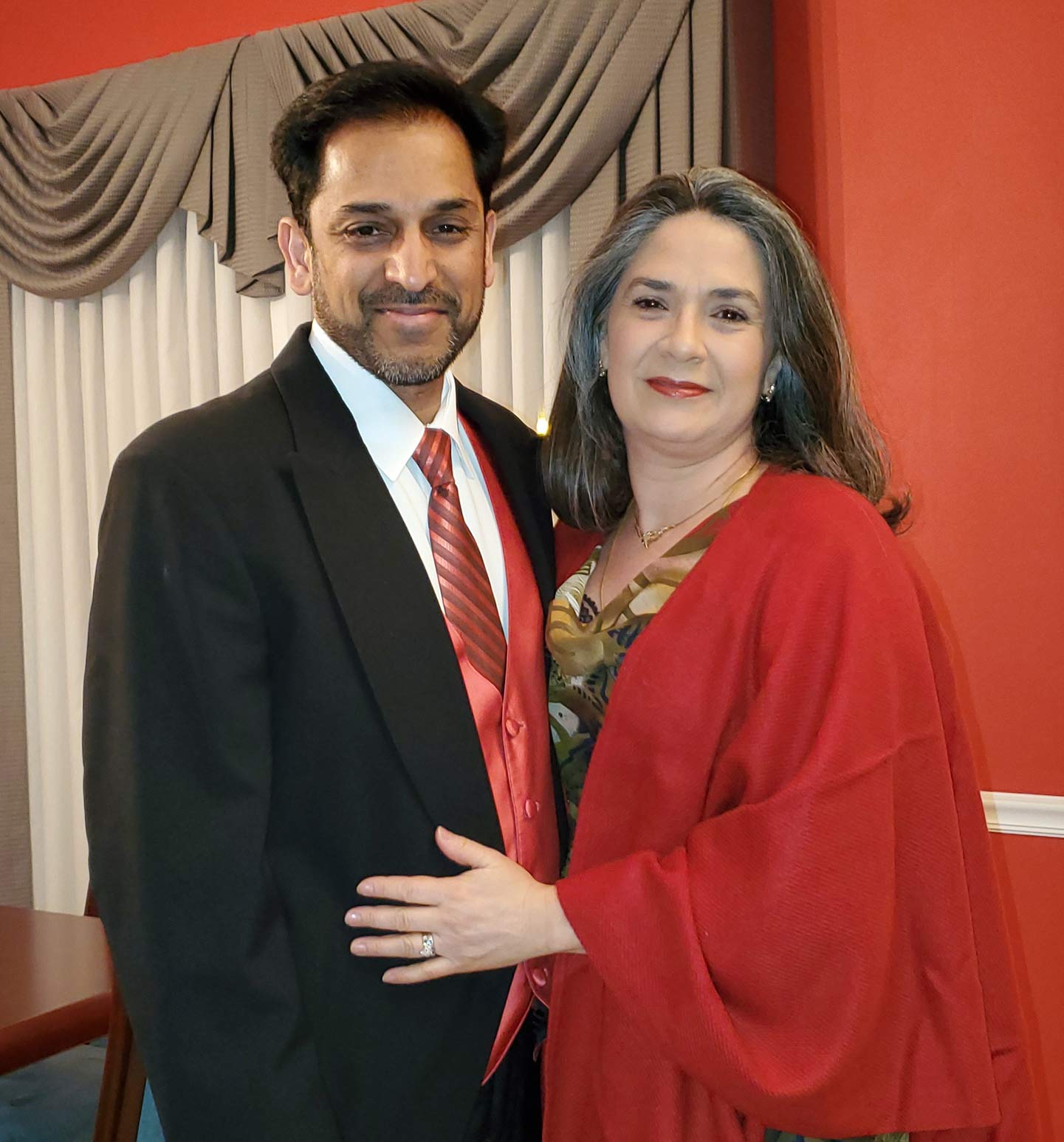 Drs. Lisa de las Fuentes and Murali Chakinala met in 1995 when they were introduced by a mutual friend at a Dallas Mavericks basketball game.
Six months later he asked her out, but the timing was off. She was studying for Boards and then headed to Europe for a three-week vacation.
They started dating when he was a second-year resident at Parkland Memorial Hospital and she was a fourth-year medical student at UT Southwestern. But when she was ready to start her residency, they faced some interesting circumstances.
Dr. Chakinala, then Chief Resident at UT Southwestern/Parkland Memorial Hospital, soon assigned his new resident, Dr. de las Fuentes, an especially difficult schedule with consecutive rotations in the ICU and Emergency Department at Parkland. What she didn't know was that, all along, he was plotting to propose and marry her in the spring.
The couple went on to pursue fellowships at Washington University in St. Louis, hers in cardiology and his in pulmonary/critical care. They liked the area so much that they decided to stay there. Both are at Washington University School of Medicine, where he is a Professor of Medicine and she is an Associate Professor of Medicine and Biostatistics.
Happily married for 23 years, they have two sons, Sanjay Alejandro, 19, and Praveen Enrique, 15.
Their secret to a strong marriage is largely driven by a deep understanding of each other's aspirations and work demands, but also a deeper respect for each other and an emphasis on a stable family life.
"Every individual success is really a collective one, and it really takes a village to raise a family," she said.
Dr. Larry and Kim Hookman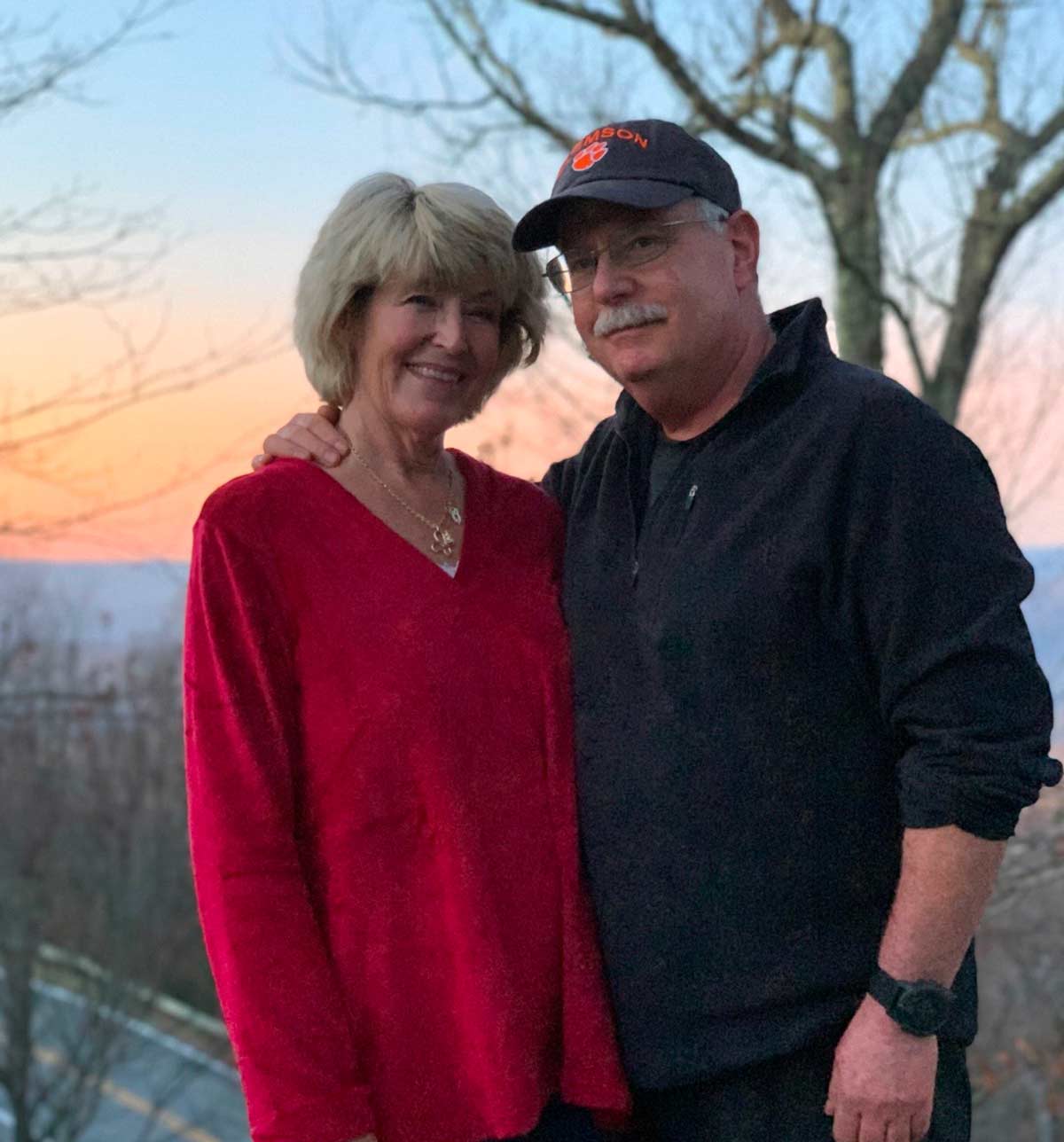 They met at the automated coffee machine. He was studying in the breakroom and she stopped by for a cup of coffee.
"I think it took three attempts at the coffee machine that night to get the right coffee out," she said. "We still laugh at that."
Forty-one years later, Larry and Kim Hookman are still laughing.
He was a third-year UTSW medical student, and she was studying in the School of Health Professions to be a dietitian. After a year of dating and lots of laughter, the couple married. He graduated from UT Southwestern in 1980.
"He went into cardiology and I went into child-rearing," Mrs. Hookman said.
With four sons and one grandchild, Dr. Hookman is a cardiologist in Knoxville, Tennessee, while his wife works for a community service organization.
"It was a match made at the coffee machine," she said.