Dryden named UTSW Physician Assistant of the Year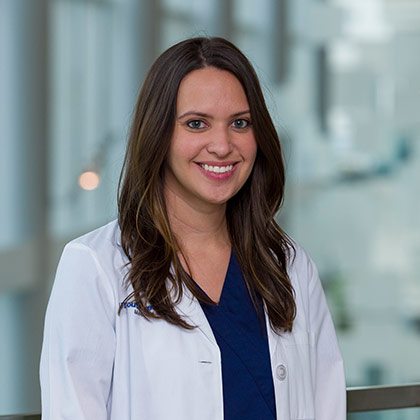 The everyday "extras" that can improve patient care do not go unnoticed, according to Courtney Dryden, PA-C, a Physician Assistant (PA) in the Harold C. Simmons Comprehensive Cancer Center's Bone Marrow Transplantation/Hematologic Malignancies Clinic.
"The extra effort you put into taking care of your patient or the extra hours you dedicate to help improve a workflow process is important and does matter," she said. "I want other PAs to know that we really do matter and can make a huge difference in our patients' lives beyond just seeing them in clinic for a routine follow-up visit."
Mrs. Dryden was named the 2020 UT Southwestern Physician Assistant of the Year. Presented annually by the Office of Advanced Practice Providers during National Physician Assistant Week, the award recognizes an outstanding PA who exemplifies UTSW's core values. In 2020, 47 nominations were received.
Colleagues in the Bone Marrow Transplantion Clinic describe Mrs. Dryden as an expert clinician and role model. Among her professional accomplishments, she developed a diagnostic tool for screening patients with hereditary malignancies and created new workflows and order sets that improve the efficiency and effectiveness of the clinic.
After receiving her Bachelor of Science in Health from Texas A&M University, Mrs. Dryden enrolled in UTSW's Master of Physician Assistant Studies program, where she especially enjoyed her elective rotation in the Bone Marrow Transplantation Clinic. She graduated in 2012 and joined the clinic staff in 2013.
Mrs. Dryden loves the complexity of her job as well as the patient relationships that are formed.
"I get to see my patients from the time of diagnosis of their cancer throughout their treatment, and then once they are in remission, I am able to follow them for years and years," she said. "Along with patient care, I am passionate about performance improvement projects. I like to find a problem and then identify a solution to help improve efficiency and patient safety."