Coffie joins DFW Great 100 Nurses for 2021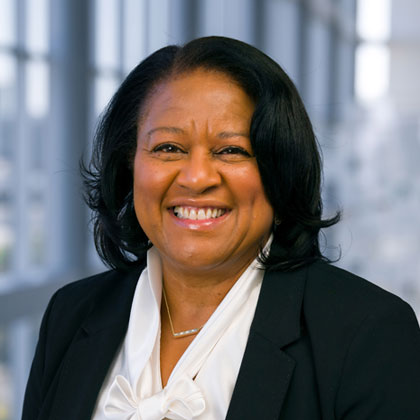 Congratulations to Sharron Coffie, M.S.N., RN, CNS-BC, who has been selected as one of the Dallas-Fort Worth Great 100 Nurses for 2021.
A panel of nursing professionals selected Ms. Coffie and the other DFW Great 100 nurses from among hundreds of nominations throughout North Texas.
For three decades, the DFW Great 100 organization has annually honored 100 registered nurses in the area who were nominated by their peers for being role models, leaders, community servants, compassionate caregivers, and significant contributors to the nursing profession.
Ms. Coffie, Director of Opioid Safety for Health System Quality, leads a team whose purpose is to ensure proper medication practices among all clinical staff.
"In a year of truly outstanding work through extraordinary times, it means a lot to see Sharron join the DFW Great 100," said Susan Hernandez, D.N.P., MBA, RN, Chief Nurse Executive. "She is an excellent role model and leader, continually helping nurses reach higher levels of excellence in practice. What a deserving honor for Sharron and for UT Southwestern."
Her nominator wrote of Ms. Coffie: "This dedicated nurse leader truly has a heart for the nursing profession."
Ms. Coffie, who has been a nurse for nearly 40 years, said she was "elated and humbled" when she learned about her Great 100 recognition.
"This is such a high honor for any nurse, and particularly special to me since it took into account all of my achievements and activities over my entire nursing career. When I received the notification from Great 100, I read the email, then the letter a few times, then shared the news with my boss, UTSW mentors, family, and friends. I am so proud to be a nurse and so blessed to have received this recognition representing nurses from UTSW."
Victoria England, D.N.P., RN, NE-BC, Associate Chief Nursing Officer of Nursing Excellence, who also serves as President of DFW Great 100 Nurses' board of directors, remarked that Ms. Coffie encourages nurses at all levels to further their education in order to enhance the quality of patient care they deliver.
"It takes a very special nurse to serve as a role model in both the profession and the art of nursing," she said. "We couldn't be happier for Sharron to join the Great 100!"